I'm A Little Bi-Furious: Bi+ women and non-binary folk talk biphobia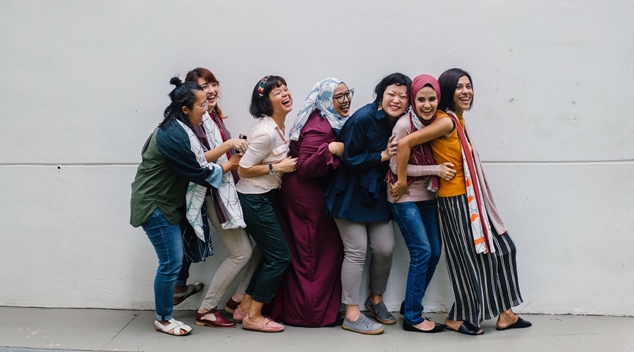 In the 2015 comedy Me Him Her Gabbi, played by Emily Meade, is called a "fake lesbian" by her evil ex-girlfriend.
Gabbi's perceived crime? Falling for Cory, and being unwilling to take back the ex.
In between the fairly standard "boy meets girl and hilarity ensues" formula, the film has some interesting discussions about identity. Particularly in the case of Gabbi, it touches on what it can be like to identify as bi if you have previously identified as gay.
Nobody should be surprised that even within the warm, inclusive embrace of the LGBTQI+ community, many individuals experience biphobia.
I mentioned in the last issue of OUTinPerth the damaging levels of psychological distress for bi+ people, but what does biphobia look like? I asked female-identifying and non-binary bi+ individuals to share their stories.
UK-based activist and campaigner Ceri Jenkins told me "I was once casually dating a woman I was really into, but she always seemed standoffish. At first, I figured maybe she wasn't as into me as I was her, and these things happen.
"Being an over-communicator, I broached the issue with her and asked where I stood. It turned out she didn't want to get too involved with me because I was bi.
"She said she felt that it was "just a phase that [I would] grow out of and end up getting with a guy anyway."
"Perhaps more hurtfully, she said she'd be embarrassed to introduce me to her lesbian friends."
Singer-songwriter Lyndall Grace experienced biphobia in one of the most vulnerable of situations:
"I had a female partner, mid-relationship, roll over in bed and say to me 'You've been with too many guys, and I think you'll go back to them' followed by 'I just think you'll end up with a guy.'
"It was as though, even if it is true, my bisexuality was somehow… gone? It came just as I was starting to really feel secure on the sexuality spectrum, my bisexuality was erased as an option by someone I was very clearly attracted to, because I'd loved men at some point before her."
Bree Campbell, founder and chairperson for Perth community group The Queer Connection, has her concerns about acceptance within the LGBTQI+ community.
"When I come out as Bisexual, I'm expecting some lesbians to boycott me," Bree says.
"In February I ran a Lesbian Pool Party, open to anyone who identifies as female and is attracted to women. So trans, bi and lesbian individuals were all included.
"I had some people message me saying that this person and that person has a boyfriend or is into men. My response was 'mind your own business, they're obviously into women too, so leave them alone.'
"It really opened my eyes to what the bi+ community goes through, so I'm now a strong advocate for bisexual inclusion and visibility. I'm also currently exploring my own sexuality and I feel a huge weight off my shoulders to now be able to openly say, I'm bisexual, and I'm proud of that."
We talk a lot about labels. About bisexual vs pansexual vs mostly heterosexual or heteroflexible. But putting labels aside one thing all LGBTQI+ people have in common is we just want to be happy and accepted.
Treating other people with kindness and respect is what's important — and that means not erasing or negating other people's sexuality.
Lyndall says it better than I ever could: "I'm here and I'm queer and I wish I didn't give a fuck what they think. But I do."
Jay Chesters