In The Pines 2015 – Limited Door Tickets Remain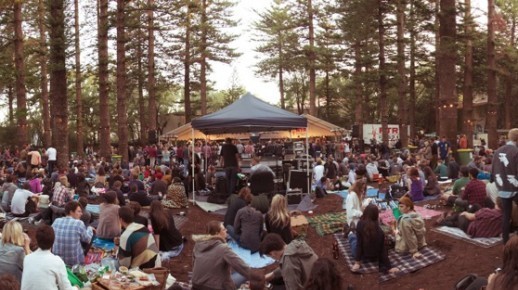 RTRFM's annual celebration of local music is on tomorrow, Sunday April 19th and only a few tickets remain.
The community radio station's annual fundraiser is now in it's twenty second year and has become a major event on the local music calendar.
Twenty bands will take to the stage in short 30 minute sets starting from 12pm.
On the line up this year is a wild variety of acts ranging from '90s indie darlings The Rosemary Beads to the ever popular Abbie Maby.
Musical duo Gina Williams and Guy Ghouse will kick off the show. Last year their Noongar language album was lauded with critical acclaim.
Set in the idyllic surrounds of the Sommerville Auditorium, the annual event is renown as being one of the friendliest musical events with a chilled out vibe and picnic ethos.
The musical celebration raised essential funds for the community radio station which is home to Perth's only LGBTIQ radio show 'All Things Queer'.
Final tickets will be available on the door tomorrow but people are encouraged to head down earlier to avoid disappointment.
Playing Times
12:00 Gina Williams and Guy Ghouse
12:30 The Wilds
13:00 Eduardo Cossio Quartet
13:30 Aborted Tortoise
14:00 Maurice Flavel's Intensive Care
14:30 Hideous Sun Demon
15:00 Husband
15:30 Shit Narnia
16:00 Lanark
16:30 Thee Gold Blooms
17:00 Grim Fandango
17:30 SpaceManAntics
18:00 Statues
18:30 The Jangle Brothers (replacing The Rainyard)
19:00 Rachael Dease
19:30 Methyl Ethel
20:00 Felicity Groom
20:30 Fait*
21:00 The Rosemary Beads
21:30 Abbe May
OUTinPerth is a sponsor of RTRFM 92.1. Editor Graeme Watson is a volunteer announcer at the station appearing on the programs 'ARTbeat', 'Golden Apples of the Sun' and 'Disco Science'. Graeme is a production mentor on the program 'All Things Queer'.