Is Harvard Medical School offering a course on gay infants? No, not really.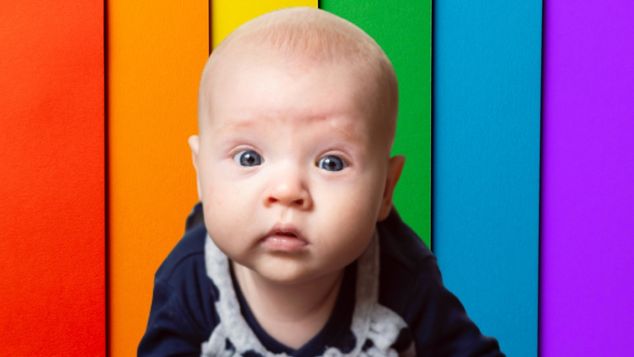 Conservative news outlets have claimed that Harvard Medical School is offering a course that focusses on providing healthcare to LGBTIQA+ infants.
The first report highlighting the unit that is offered at the prestigious medical school was published a few days ago on The College Fix, a conservative news site in the USA that focusses on tertiary education.
They highlighted the unit Caring for Patients with Diverse Sexual Orientations, Gender Identities, and Sex Development was described as giving students a chance to work with patients who "identify as gay, lesbian, bisexual, transgender, queer, intersex or asexual".
The course description says it involves "Clinical exposure and education will focus on serving gender and sexual minority people across the lifespan, from infants to older adults."
The media outlet said they'd asked the university to explain what their approach was to gender dysphoria, and if their approach included counselling, and just how do medical experts know if an infant is gay, lesbian, bisexual or transgender?
They got no response from the medical school, but an ethicist from a religious based conservative thinktank was on hand to condemn transgender health care.
The report also highlighted that the main hospital the course takes place at, Massachusetts General Hospital, is a location where people over the age of 18 can access gender affirming procedure. They noted that the hospital's website also includes resources for people experiencing gender dysphoria, including support for parents.
Soon the story was appearing on Fox News, who shared their version, and again their requests for an explanation of how the university could determine gay, lesbian, bisexual and transgender babies was not answered.
The report was repeated at The Daily Wire, Rebel News, and ABC News. On Twitter the reports were quickly retweeted, and the comments quickly escalated.   
Soon the report was duplicated in Australian media as The Daily Mail Australia claimed. "Harvard Medical School offers course about healthcare for LGBTQIA+ 'infants' with curriculum offering lessons in areas including OBGYN, pediatrics and plastic surgery."
The suggestion that doctors think there are gay identifying infants is certainly something would raise more than a few eyebrows, and it would be more than fair to ask if it is right for infants to be signing up for plastic surgery? Could children really be sure if they are transgender before their first birthday?
The story however is actually quite a beat up.
In the original article by The College Fix, their quote omits some key words from the course description. It actually states, "Many of these patients identify as lesbian, gay, bisexual, transgender, queer, intersex or asexual (LGBTQIA+)." The removal of the words "Many of these", and the emphasis that the course also includes "infants", gives the impression of babies signing up to a Pride Parade before they've mastered crawling.
When The College Fix put their questions to Harvard, they asked about identifying gay, lesbian, bisexual and transgender babies, dropping the I in LGBTIQA+ from their inquiries.
As anyone who has studied psychology, nursing, medicine or a range of other fields would know, looking at development across a lifespan in a common feature in learning about human development. A course that considered sexuality and gender from birth to old age is commonplace.
And the main reason the doctors would be looking into infants in terms of sex is contained within the report from The Daily Mail. As a spokesperson from Harvard Medical School confirmed, the section of the course description everyone is getting worked up about is referring to people born with intersex conditions.
"As part of our MD curriculum, HMS offers a four-week elective course that educates and trains medical students to provide high-quality, culturally responsive care for patients with diverse sexual orientations, gender identities, and sex development across the age spectrum." the university said.
"In this context, care for infants refers specifically to physical variations in sex development that arise in utero and are present at birth. These include chromosomal, gonadal, and anatomical variations, all of which are relevant to medical care and treatment to ensure healthy development.
"This course aligns with Harvard Medical School's Sexual and Gender Minority Health Initiative, and its educational framework is based on recommendations of the Association of American Medical Colleges, which together aim to address the health needs of patients who are LGBTQIA+, gender-nonconforming, or born with differences in sex development.", a spokesperson said.
Yes, the infants that doctors are assisting are children born with intersex conditions. The plastic surgery highlighted at the top of the article is not the breast augmentations that many readers assumed, but potentially essential medical interventions.
However, unnecessary treatment of intersex children is an issue that is a great concern for people who have intersex conditions. Last Year the ACT government has released a draft bill outlining plans to end non-consenting medical interventions on intersex children.
As one intersex person shared with OUTinPerth in 2020, having medical procedures forced upon you in your early years can be extremely traumatic, and a better approach would be to leave it until people were old enough to make informed choices for themselves.
What is disappointing though, is that many of the media outlets who shared this erroneous information are yet to add any clarifications, and as for all the outraged keyboard warriors on social media, that horse will probably never be put back in the stable.
Graeme Watson 
---

You can support our work by subscribing to our Patreon
or contributing to our GoFundMe campaign.