Japanese boy band pash-on in new kiss filled video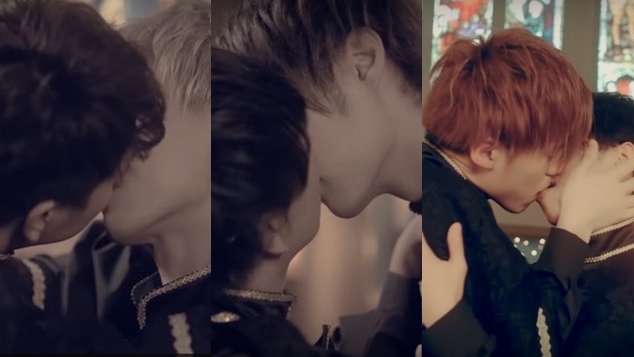 Japanese boy band Mesemoa have more than a few kisses in their new video. The clip for Shadow Kiss  is filled with pecks on the cheek, feet, neck and some fairly serious kisses on the lips.
The nine member boy band have certainly got our attention with their new video. We also quite like their costumes which feature tiny capes.
The band comprises Shirofuku, Aoi, Kimagure Prince, Nazakibento, Nibansenji, Tomitake, Forgeru, Nichan and Nokkuso. Check out their band page, and follow them all on Twittter.
How many kisses can you count in the clip?
Five Songs About Kissing
Sixpence None The Richer scored their big hit with Kiss Me. 

Stephen Duffy was the lead singer of Duran Duran before they were famous. He still got his time in the spotlight with this '80s hit. Stephen went on to write songs for Robbie Williams, who also covered this tune.
Des'ree provided the stunning love theme for Baz Luhrman's Romeo and Juliet.
Faith Hill scored her biggest hit with This Kiss. Don't you just love it that she's hanging out in a giant flower.
Sir Tom Jones made Prince's Kiss his own.