Jax Jacki Brown speaks about disability and sexuality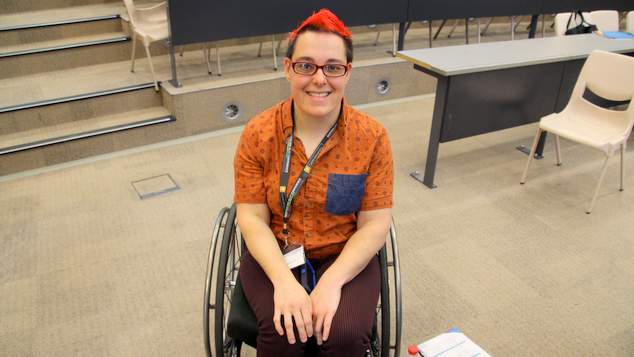 Disability advocate Jax Jacki Brown spoke about the intersection of disability and sexuality at the opening of the 2018 Australian Ally Conference in Perth on Thursday.
Brown reflected on The Politics of Pashing, an article she wrote for Archer magazine about pashing in public. The article featured an image of Brown in her wheelchair locking lips with her same-sex partner on a crowded Melbourne street.
"It was about how pashing as a queer disabled person in a particularly public space was an act of activism." Brown said.
"I really hadn't seen anywhere in the media, in popular culture, on the street, queer disabled people having a pash. You hardly see disability and sexuality depicted at all in the media… people with disabilities are presumed to be non-sexual or for people with intellectual disabilities the presumption is often that they will be hyper-sexual.
"We're depicted as being undesirable, weak, as being dependent, as being grateful that anyone at all would ever find us desirable. And also, often people with intellectual disability – as lacking the capacity to give consent."
Brown suggested a better way forward would be to adopt an intersectional approach.
"We must adopt an intersectional approach to understanding the experiences of the LGBTIQ community with disabilities. Intersectionality provides us with a political framework to understand how multiple forms of discrimination are experienced and lived." Brown said. "Our identities don't exist in a vacuum, they overlap and inform each other."
Brown said queer people with disability faced many challenges including facing higher rates of violence and lack of recognition of their sexuality from support workers.
The activist noted that people often think of the needs of disabled people in relation to their physical access to buildings and spaces, but rarely considered their need to access dating and relationships. "These are also issues of access." Brown said.
Follow Jax Jacki Brown on Twitter
---