Jazz drummer Michael Pignéguy returns to Perth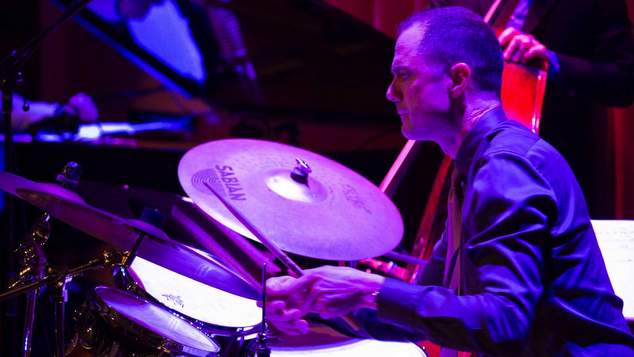 Jazz fans have something to be excited about. Jazz artist Michael Pignéguy is returning to Perth presenting the music of The Awakenings Ensemble ft. Jamie Oehlers on Wednesday 04 July 7.00pm
June and July see a particularly active time for drummer and producer Michael Pignéguy as he shares the music of The Awakenings Ensemble with audiences across Australia as well as in Malaysia, Singapore and New York.
Michael has cultivated a wide network of collaborators for the music he creates with the group and will be featuring these artists in the different territories he's traveling to.
The Perth show sees one of Australia's best loved saxophonists, Jamie Oehlers, as the key interpreter of Michael's world music infused compositions.
They will be joined by Harry Mitchell (keyboards), Peter Jeavons (basses), Simon Jeans (guitars & FX) and Ricki Malet (trumpet) resulting in a truly outstanding line-up.
Pignéguy has been praised for his work as a musician, composer and arranger. He's well known to longstanding Perth jazz fans having studied and the West Australian Academy of Performing Arts in the early '90s. He then formed the Michael Pignéguy Quartet that entertained local audiences for many years.
His first large-scale work was the CY O'Connor Jazz Suite, a four-movement work for 27 players commissioned for the opening of the 2003 Fremantle International Jazz Festival.
Over the next few years Pignéguy composed several large scale works including Jazz Meets Mozart to celebrate the 250th anniversary of Mozart's birth and When Worlds Collide which was performed by his sextet with the Australian Youth Orchestra.
In 2006 Michael moved to Abu Dhabi and has subsequently moved on the Dubai and Doha where he now resides. While living in the UAE he's developed a strong interest in Arabic music and it's been an influence on his latest work.
Catch Michael Pignéguy and The Awakenings Ensemble featuring Jamie Ohelers at The Ellington Jazz Club in July.  
Source: Media Release
---