Johnny Young remembers the days of The Go!! Show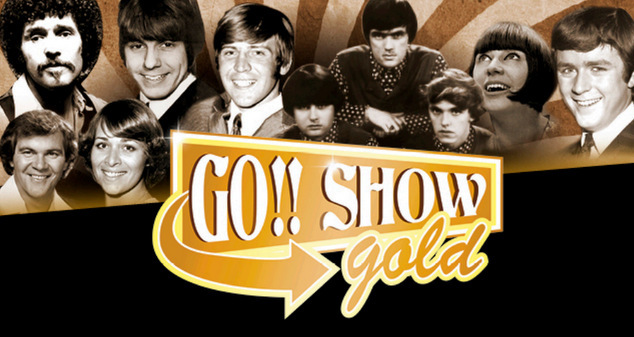 Depending on your age you might know Johnny Young as a breakfast radio voice, or if you're a little older you'll immediately think of him as the host of the long running entertainment show 'Young Talent Time', but before all of this; Johnny Young was a pop star, and recently he's been revisiting the early days of his career.
'Go!! Show Gold' brings together a fantastic bunch of performers who were at the top of the charts in the 1960s and early 1970s. The show takes it's name from a weekly TV show that featured the latest pop sensations, and Johnny Young was one of it's hosts.
Meeting Johnny Young is intimidating, he's a legend in the Australian music industry, he's had his own successful pop career, he's a successful writer and producer, he's launched the careers of some biggest names in the Australian entertainment industry – and he continues to have a loyal radio listener-ship.
Now in his late 60's Young sports a head of pure white hair, he dresses in a black suit with an loose white shirt, and as he walks across the lobby of the Crown Theatre, he beams with a very recognisable smile.
As we chat over coffee Young expresses how excited he is to be hosting the live show featuring some great performers who had big hits back in the 1960s.
Among the artists in the show in New Zealand singer Dinah Lee. Young said he had Lee both owed their big breaks to rock 'n roll star Johnny O'Keefe.
"Dinah Lee was a New Zealand girl, at the time she came over to Australia Johnny O'Keefe was doing a program called 'Sing, Sing, Sing'." Young explained,  "He introduced her, as he did for many of us, including to myself. He introduced her to the Australian audience and her first singles were 'Don't You Know Yockomo?' and a cover of Jackie Wilson's 'Reet Petite'."
Young shares that he often plays Lee's records on his radio show and describes her as fabulous and wonderful performer.
Another great singer appearing in the show is Colleen Hewett. While Hewett's recent career has included featured roles in musicals, including a turn as Mama Morton in 'Chicago', she too began her career in the swinging 60's as a member of the Laurie Allen Revue.
"She's a wonderful singer, an incredible singer" Young said. Back in 1971 Young produced Hewett's first solo record a cover of the song 'Superstar'. The song, which many attribute to the band Carpenters, was actually around long before it became a hit for the brother sister duo.
Young said Hewett's appearance in the musical 'Godspell' back in the 70's was wonderful. Her recording of the song 'Day by Day' was produced by Ian 'Molly' Meldrum and became a huge hit.
"She has an amazing voice, and always ends up with a standing ovation." Young said of Hewett's appearance in 'Go!! Show Gold'.
Young has enjoyed a long association of Molly Meldrum. Their best known collaboration was on a song that Young wrote, and Meldrum produced, for Australian performer Russell Morris.
In 1969 Morris was launching a solo career after being the front man for the band Somebody's Image.
"I'd worked with Molly on a couple of songs. Molly had told me that Russell wanted to have a solo career." Young recounted, "I'd just come back from England where I'd lived with Barry Gibb and his wife Maureen, so I'd been spending time with one of the best songwriters in the world, of course I was influenced by that."
Young acknowledges that Gibb had given him the confidence to be more experimental in his songwriting.  Young recalls that after a gig he and his band had headed back to their hotel for few drinks and were playing their guitars for fun.
"I was playing this idea for a song 'The Real Thing', it was motivated by the Coca Cola ad that was saying 'It's the Real Thing', my social conscience said 'If Coca Cola's the real thing, the world's in big trouble.' So I started to write this song.
Young said he soon came up with the line "There's a meaning there, but the meaning there doesn't really mean a thing." and from this developed his central premise that while many things from religions to politics claim to be 'the real thing', for Young people is what was most important, leading to the song's declaration of 'I am the real thing.'
The next morning the band were appearing on the TV show 'Uptight' at Channel Ten and were sitting the dressing room. Young notes that back then there was just one big dressing room for all the performers to share.
"The boys and I were trying to remember the song from the night before," Young said, "Molly, who was in the dressing room, came running over and said 'That's what I want for Russell'."
The songwriter said his first reaction was to turn Meldrum down, but the producer was very persistent.
"The following morning at 3am I got a bang on my apartment door, and there's Molly with a tape-recorder demanding the song. So there I am at three in the morning trying to remember it."
The song went on to become a massive hit launching Morris' solo career. Over the years it's been recorded by a range of artists from Midnight Oil to Kylie Minogue. Young said he was a big fan of Minogue's version of the tune describing it as "fabulous".
Alongside his own performing career, which brought him a string of hit tunes, Young also continued to write for other artists – creating a diverse range of songs.
Ronnie Burns, who also appears in the show, scored a hit with 'Smiley' which Young wrote.
"He asked me to write something about the Vietnam War, and the experience I'd had with the Vietnam War was related to Normie Rowe. Normie and I used to tour in the sixties… and then his number came up and he was sent to Vietnam, and he came back a very 'angry young man.'" Young said.
Young said he was enjoying being back on stage, and quotes a line from close friend from Brian Cadd, noting that the sixties was "a great time to be a teenager".
"We listened to the these great producers from overseas like George Martin and Phil Spector, they experimented too, with certain kinds of echo and using two drummers instead of one, and we took that a step further and created our own scene." Young said highlighting that before the '60s there was very little locally made music.
"Before that you did covers of American songs, there was very few original songs. It was wonderful to be part of that time in the sixties, where there was a lot of experimentation."
Both Ronnie Burns and Normie Rowe and joining Young on the bill for 'Go!! Show Gold'. Also on the bill is trio MPD Ltd.
"MPD. is Mike, Pete and Danny. Mike Brady wrote 'Up There Cazaly', and he performs that in the show as well. They were a great sixties band and really popular here in Perth. I used to go see them at the Town Hall." Young said, recalling nights when 300 teenagers used to squeeze into the Perth Town Hall.
Ross D Wylie who hosted the TV shows 'Uptight' and 'Happening '70' is also appearing. Like Young he also had a successful music career alongside a TV hosting job. Wylie scored hits with 'The Star', which Young wrote for him.
Young said he wrote 'The Star' when he feeling down; "I was going through a little emotional conflict at the time, I'd broken up with a girlfriend. I sat down on a chair in the TV production office and wrote 'here comes the star'. It's a fantastic song and it just came out instantly."
"Look at me now I'm the loneliest guy in the world, people say he's a star and he's sure to go far, 'aint he pretty' Young recounted, singing the song's opening line.
Rounding out the line up is Doug Parkinson and Glenn Shorrock who'll be joining Johnny Young, Dinah Lee, Coleen Hewett, Ronnie Burns, Normie Rowe, MPD Ltd and Ross D Wylie.
Young said he was enjoying celebrating the 50th anniversary of when he started on 'The Go!! Show' with an impressive line up or artists and audiences that are loving the performances.
'The Go!! Show Gold' is at the Crown Theatre on Thursday August 4th at 7:30pm. Tickets are available at Ticketmaster.    
Graeme Watson