Jungle Brothers take on a journey through jazz, acid house and hip hop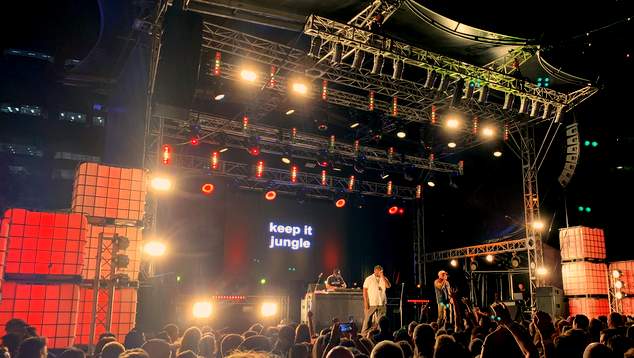 Jungle Brothers | Chevron Musical Gardens | Sat 16th February | ★ ★ ★ ★ 
It's years since they recorded new music but hip hop heroes Jungle Brothers drew a packed crowd to their Saturday night show at Chevron Festival Gardens.
After support from locals Odette Mercy and the Soul Atomics and Downsyde, the trio of Mike Gee, Afrika Baby Bam and DJ Sammy B took to the stage and urged everyone to 'keep it in the jungle'.
For an an hour they delivered catchy flows of rap while adding some dance moves, expressions and reactions. The common call and response between the band and their loyal fans made it a communal tribal experience and everyone chanted "hip" "hop" over and over.
Afrika Baby Bam joked about how long it had taken for the trio to fly to Perth, turntablist Sammy B had only arrived on Saturday morning his luggage being lost on the journey.
The band included everything from their early work like Jumbrowski and the acid house filed I'll House You – reminding us that we've been listening to Jungle Brothers since the second summer of love – and all their big hits like Breathe Don't Stop, V.I.P and Jungle Brother.  
There set up was simple, their energy was at maximum and even if your not a total hip-hop head it was a fun show to watch and dance along to.
Coming up at the Chevron Gardens this week for the Perth Festival is the Melbourne Ska Orchestra, Rhye and Beach House.  
Graeme Watson
---