Katya Kokov Hits it Off with Dannii Minogue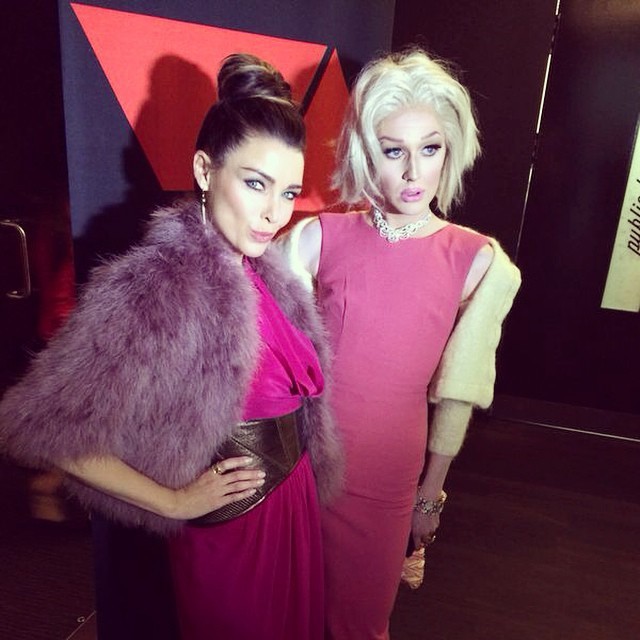 Perth drag queen Katya Kokov caused a stir when she was spotted with Dannii Minogue at the opening night of the Perth Fashion Festival last night.
It seems the pair bonded when Minogue visited Target in Perth city to promote her new Petites range, where Katya was innocently doing some shopping.
"I was getting a present for my little sister." Kokov said.
"I saw [Dannii] and I went up for a photo and then when we were getting a photo we just got chatting and she was like 'What do you do?' and I told that I was a drag queen and she asked if I had ever done her or her sister before and I was like 'Yeah I have' and then she was like 'Well you have to come to this party tonight'
Minogue insisted Kokov come as her date to the opening of the Perth Fashion Festival, wearing the pink sheath dress from her own collection.
"She gave me a dress and then she gave me a tuxedo suit thing because her line is called 'Petites' and she said "Petite guys have trouble finding suits so have this petite suit' so I got a petite suit too and then I went to her party later. She was really nice, really friendly."
Kokov also got to display some of her own talents at the party later that night.
"There's a video of Dannii singing 'Put a Needle on It' and me lipsynching it over the top of her." she said. But Katya says she's not changed by her brush with fame, even if she is now an honourary Minogue.
"It was a really good interesting little day."
The West Australian captured Dannii Minogue and Katya Kokov's lipsynch duet, which you can see here.
Sophie Joske
Image: Instagram @danniiminogue