Kim Wilde Reveals Christmas Album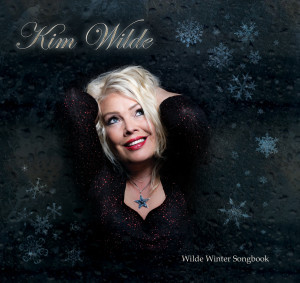 Kim Wilde has announced the release of 'Wilde Winter Songbook' her new Christmas album which will be released on 15th November.
The album is a mix of brand new songs and seasonal classics, plus a few surprises like a cover of the Fleet Foxes song 'White Winter Hymnal'. Wilde teams up with her father 50's rocker Marty Wilde and her brother Ricky Wilde on the tune. Keeping it in the family she also records a track 'Burn Gold (Silent Night) with her husband Hal Fowler.
Two other 80's stars make an appearance, 'Winter Wonderland' is a duet with Rick Astley. Wilde notes she thinks the combination of her voice and Astley's in a perfect match.
"I think Rick Astley's and my voice go perfectly together; like a hot cup of tea and a digestive biscuit!"
Also making appearance is Wilde's touring partner Nik Kershaw. The two record 'Rocking Around the Christmas Tree'. Kim previously recorded the song with the late comedian Mel Smith for the charity Red Nose Day back in 1987.
Wilde recently told OUTinPerth about the recording of the album,
"I started writing and recording straight after last Christmas. I've always wanted to make a Christmas album and I'm really excited about it. There are twelve songs, six originals and six traditional or well known songs," Wilde said.
Being a huge fan of the Christmas period Wilde says writing Christmas songs came very easily.
"It's not hard to write a Christmas song, I had them all inside me, I love Christmas. All these songs were just waiting to be born. I've always wanted to record some of the songs that are on there.
"It's a very personal album. It doesn't really go into the realm of religion, it's focuses more on what Christmas is about to me which is family and friends and humanity."
TRACK LISTING
Winter Wonderland (Duet with Rick Astley)
Hope*
One*
Have Yourself A Merry Little Christmas
Winter Song
New Life*
White Winter Hymnal (featuring Marty Wilde & Ricky Wilde)
Burn Gold*
Song For Beryl*
Let It Snow
Hey Mister Snowman*
Rockin' Around The Christmas Tree (Duet with Nik Kershaw)
* indicates new composition
'Wilde Winter Songbook' her new Christmas album will be released on 15th November.