King's Landing: Drag For All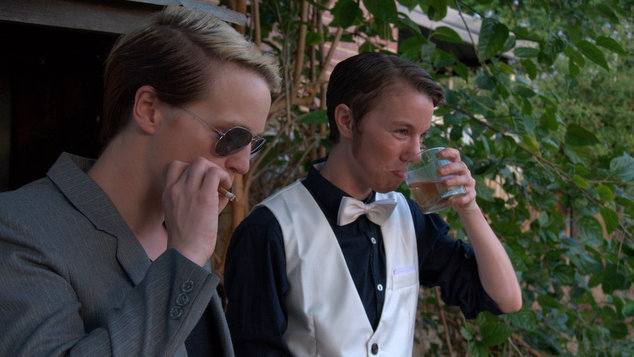 Suits on and whiskeys in hand, Jimmy Hart and Hunter Downe are two downright classy fellas. They joke around and banter like brothers, and indeed they are – drag brothers.
"People still find it confronting to see women dressed as men"
 While Hart is a self-described "drag prince" who worships Michael Jackson, Downe claims a more matured, jazz-inspired personality. The duo play off their differences on-stage.
"Next we're going to mash up Bruno Mars's 'Treasure' and 'Gorilla'," says Downe. "I'm the gorilla."
The long-time friends and recent collaborators are stars of the West Coast Kings (WCK), formerly the Drag King Association of Perth (DKAP). WCK have performed at Club West several times this year, an impressive feat considering the troupe lost several members to Melbourne last year and now has roughly nine kings coming and going.
"We'd like to perform at least once a month, but it's hard to get everyone in the same room at the same time," says Hart.
Part of the problem of performing and booking shows as a drag king troupe seems to be the persistent lack of recognition.
Kevin Razorline, former leader of DKAP, explains: "At the start we [DKAP] couldn't get gigs because people didn't know what to expect from drag kings. Bar owners think we're more of a risk; they don't know what we are going to bring to the stage."
For the uninitiated, drag kings are different to drag queens in more than just title and anatomy. In the 60s, gay men started dragging as an extreme and hilarious "fuck you" to homophobic squares who thought "camp" was insult. Drag kings are a much newer phenomenon, becoming popular during the 90s explosion of third-wave feminism, and rooted in ideas about gender diversity and fluidity.
Perhaps as a result, lesbian drag is rarely about hyper-masculinity in the way drag queens play with hyper-femininity. Hart and
Razorline both admit to channelling "fabulousity", but have you ever seen a butch queen?
Another thing you'll notice is drag kings commonly perform together, while divas rarely share a stage without somebody getting mounted (see Rupaul's Drag Race for further reference).
There is camaraderie amongst kings. "There aren't that many of us, so it's nice to perform in a group," Razorline said. "But some kings can be as cocky off-stage as they are on," he added, grinning.
With all their differences, both drag queens and kings are vital to challenging cultural notions of gender, especially masculinity. Western masculinity is more tightly guarded than One Direction's chastity, and while female sexuality might be less rigid, society is still uncomfortable with alternative forms of masculinity, including women resembling men
As Razorline observed, "There's next to no celebration of butch culture or the butch identity. I think drag kings are a way to make butch cool and accessible. There's more than one way to be a woman." (Or a man, for that matter.)
"People still find it confronting to see women dressed as men," says Hunter. "Straight guys think you're challenging them or something, but we're really quite friendly, like a boy band or the Chippendales, without the stripping."
At the end of the day, drag kinging is bold, fun and humorous entertainment that should take its rightful place next to the throne of drag queens. The West Coast Kings are one troupe that is serious about launching a coup, so watch this space – the Kings
have landed.
If you're interested in watching drag king shows or trying it out yourself, get in touch with the West Coast Kings on Facebook. (Or hell, form your own drag king troupe and stage West Side Story dance fights in the streets.)
Carmen Reilly