Kylie Minogue Opens the Best Disco in Town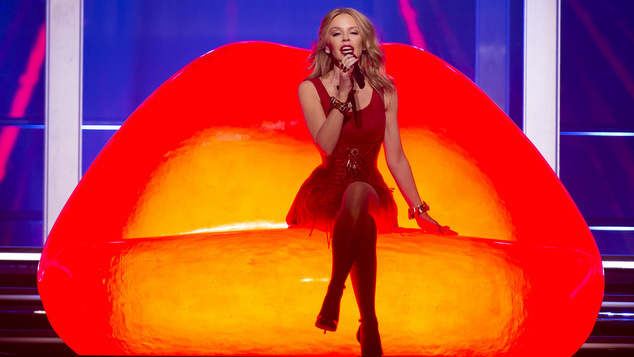 Kylie Minogue began the Australian leg of her 'Kiss Me Once' tour in Perth last night. Without doubt it was the best disco in town.
Prior to Kylie appearing on stage, up and coming pop star Betty Who – fresh from her early morning appearance at Mardi Gras- entertained the crowd before sisco legend Giorgio Moroder provided a DJ set.
When it was time for Kylie, the auditorium went dark before shards of light captured her backing dancers on the stage, and when Kylie made her grand entrance it was lying along a pair of bright red lips. Dressed in a short red dress, with a hat that looked remarkably like an anthurium, the singer looked sensational.
Launching straight into Les Sex' from her most recent album 'Kiss Me Once' Kylie didn't waste anytime in getting the party started. 'In My Arms' followed before Kylie told the crowd how excited she was to be back in Australia.
Stand alone single 'Time Bomb' came next, and backing singer's Lucy and Roxie joined Kylie to perform 'Wow!.
The second segment of the show saw the dancers appeared in fun bizarre costumes that made them look like licorice all-sorts, while Kylie appeared in a glittering black corset.
This segment featured back to back hits with 'Step back in Time' – given a Daft-Punkesque refresh, 'Spinning Around', 'Your Disco Needs You' and 'On a Night Like This'.
Giorgio Moroder returned to the stage and joined Kylie for a performance of their collaboration 'Right Here, Right Now'. Afterwards the pair launched into a rendition of the Donna Summer classic 'I Feel Love' with Moroder beat-boxing the tunes distinctive sound. The disco segment ended with the powerful song 'Slow'.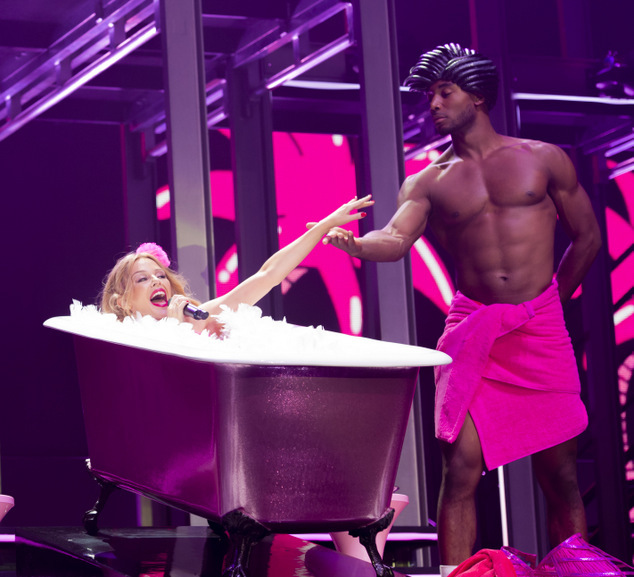 The next stage of the show saw Minogue appear in a bright pink frou-frou outfit while her dancers and backing singers wore sculptured comical wigs. The crowd lapped up the pop soaked classic 'Hand on Your Heart'.
Kylie shredded a layer of clothing with each subsequent song as she worked through some of earliest hits including 'Never Too Late', 'Got to Be Certain' and 'I Should Be So Lucky'. For the last tune the iconic video was recreated with Kylie stepping into a bathtub, where the bubbles were replaced with feathers.
As the guitar riff of the INXS classic 'Need You Tonight' echoed across the arena the crowd went mental. Kylie's tribute to former love Michael Hutchence was well and truly welcomed by her fans. The woman sitting next to me screamed 'Oh My God! I Think I'm Going to have a heart attack!' Dressed in a short black PVC overcoat and a policeman's cap Kylie did the song justice.
Giant exercise balls appeared for 'Sexercise' before the performers segued into one of Kylie's biggest hits 'Can't Get You Out of My Head'. Kylie lead the crowd in a 'la, la, la' sing along before bursting into the rocking hit 'Kids', with one of her backing singers providing some powerful vocals in Robbie Williams absence.
Next we saw Kylie appear along in a flowing dress to sing 'Beautiful' and 'Kiss Me Once', the title track to her most recent album. Lazers danced around the room as Kylie belted out the feel good number.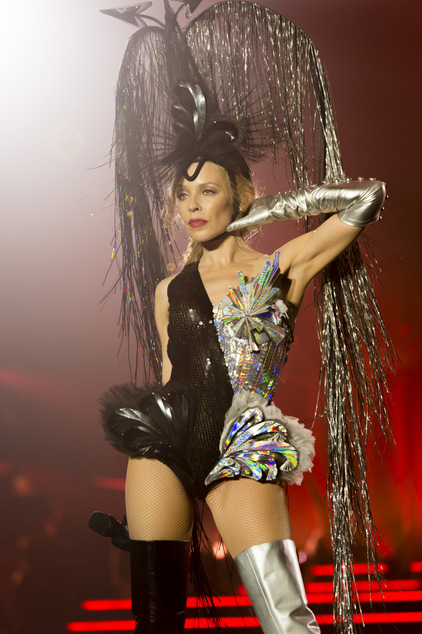 The final section of the show saw Kylie appear in an 'over the top' black and silver outfit and she sang 'Get Out of My Way' and 'Love at First Sight'.
Chatting to the audience the singer asked for requests, providing a capella rendition of 'I Believe in You'.
Noting that her Mum and Dad were in the audience, Kylie dedicated an impromptu performance of 'Tears on My Pillow' to her father before singing 'The Locomotion'.
One lucky fan caught Kylie's attention with a giant sign asking for a selfie. The singer pulled super-fan Amy up on stage and granted her wish in front of thousands of people.
The show wrapped up with 'All The Lovers' before Kylie re-appeared in a tight blue dress to sing 'Into the Blue'.
Since Kylie last performed in Perth four years ago she's embarked on her stripped back 'anti-tour' and the recorded 'The Abbey Road Sessions' – a chilled re-imagining of her best known tunes, and maybe this has had an effect on her live current live show.
While this show didn't have the super outrageous costumes of her 'Aphrodite' tour, the stage that transformed into a fountain, the flying through the air with an angel or the troupe of dancing hunks, it had a lot more heart and a real connection with the audience.
Kylie and her fans were here for a good time, and Kylie singing the songs we love, surrounded by lazers, (and little bit of crazy costumes and a couple of hunky dancers) is a far more rewarding experience.
OUTinPerth's Kylie Minogue experience was provided by Visa Entertainment. Visa Entertainment gives all Visa cardholders access to exclusive concert ticket pre-sales for concerts. Sign up today for free at visaentertainment.com.au and find them on Facebook.   
Review: Graeme Watson Images: Ken McKay (supplied) Previous concert.