Kylie Minogue Style Inspiration: A Retrospective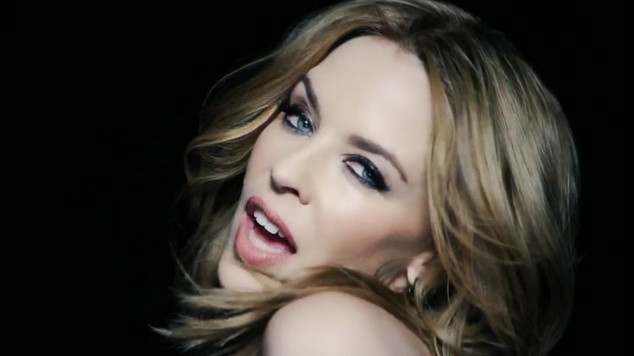 This weekend Kylie Minogue is bringing her Kiss Me Once Tour to the Perth Arena. In celebration, here's a sonic and visual journey through some of Kylie's greatest fashions. Get some inspiration for what to wear to the show or just bask in the sartorial glory of Australia's queen of pop.
The Locomotion (1988)

Got to start with the classics. Where to begin with this glorious '80s confection? The exercise gear? The sunhat? The hair? It's overwhelming. A lot of these pieces could absolutely work today: the hoop earrings, acid wash jeans and high-waisted everything. And you can never, ever go wrong with a leather jacket.
Lesson: Polka dots are timeless.
Better the Devil You Know (1990)
True life: this video makes me so happy I almost want to cry. Firstly, I have a thing for songs with insanely catchy dance beats teamed up with sad lyrics (which seemed to be quite a thing in the '90s). Secondly, the dance moves are truly the greatest. This is also when Kylie first started getting half-naked in her videos, which everyone can objectively agree is a good thing. The high waisted shiny shorts are perfect. The sequinned crop top is perfect. I would legitimately wear everything in this video tomorrow. Except maybe the hooded crop top. You need some serious abs to pull that off. The greatest is of course the completely transparent jacket at the beginning. YES.
Lesson: shiny things are always good.
Did It Again (1997)

This is unquestionably one of the greatest and most underrated Kylie videos of all time. Four Kylies for the price of one. Four options to suit a wide range of personalities; a bit like the Spice Girls, if every Spice Girl was Kylie, which, of course, would be the most flawless girl group of all time. Sadly we don't live in a perfect universe, so this video is the closest we shall ever get to this utopia unless we get human cloning sorted out. Of course, each Kylie looks amazing in her own right. There's Indie Kylie looking boss in all red, Cute Kylie in a pink fringed crop top and shorts, and curly-haired Dance Kylie rocking an adorable multi-coloured number. My personal favourite is Little Miss Chievous Sex Kylie rocking peroxide blonde Eurotrash hair with a dark lip and a bright blue crocodile skin mini-dress. Is there a greater phrase in the English language than 'bright blue crocodile skin mini-dress'? Of course not. How dare you.
Lesson: Dress as your own alter egos.

Spinning Around (2000)
Who could ever forget the iconic gold hotpants? I was 8 years old when this video came out and I remember people were talking about it on the playground (which is, in retrospect, kinda weird. Shouldn't we have been playing Pokemon or something?). Here Kylie shows off the most perfect arse in recorded human history and makes us all want to cry and go to the gym. Obviously the hotpants are a sartorial focal point, but it would be folly to ignore the glorious array of early '00s halter tops. Here is a performer at the top of her fashion game.
Lesson: if in doubt, go gold.
Can't Get You Out of My Head (2001)
Just when we thought we had reached peak Kylie with 'Spinning Around', this happened. Minds were blown. It took us a good five years to get this song out of our heads. There's a lot of great stuff here, from robotic tennis ensembles on her back up dancers to sexy red driving gloves. Of course the most recognizable piece from this video is the all white hooded ensemble with a bright bold lip. If you haven't seen a drag queen give this look a go you've been living a sheltered, empty existence.
Lesson: leather gloves make everything cooler.
Love At First Sight (2001)
And in that same year, when everything was going so well, we got this. I felt this was worth including just as a reminder that even the best of us can't always get it right. The g-string worn higher than the pants- why was this ever a thing? The experimentation with underwear being made outwardly visible at the turn of the century (as seen here and in Britney Spears' 'Slave 4 U') is indicative of the atmosphere of fear and chaos following the turn of the century. Faced with a new millennium, the potential of frightening new technologies and a war on terror, we briefly lost the sense of order and purpose necessary to remember the correct method of putting on clothing. This is the only explanation I have. Seriously, none of this makes sense. Her eyeshadow looks like it was applied by Rafiki right after he was done blessing the baby Simba, her bangle is for some godforsaken reason worn above the elbow and she's teamed cargo pants with stilettos. No wonder she's tripping down the stairs at the beginning of the video. Also, why, for the love of everything good and decent in this world is Kylie Minogue wearing a lanyard? Dark times indeed.
Lesson: cargo pants are never okay.
Red Blooded Woman (2003)
Don't worry we're back on track. In this video, Kylie is a crazed, lusty beast of a woman who abandons her car in the middle of traffic to go dance on a water tower. A stripey tank top with an underbust corset? Why not! Mid-noughties Kylie wears whatever she damn well pleases. On paper, such a combination teamed with a pair of jeans, heeled boots and a fur stole shouldn't make any sense but she pulls it off. And then she climbs into a stranger's car, steals her dry cleaning and winds up looking even more flawless. Never forget: shiny red bumbags are both fabulous and practical. There's some more visible underwear in this one, but to much better effect.
Lesson: Why wear a dress when you can wear pieces of a dress?
Chocolate (2003)
This video is so visually gorgeous it doesn't even matter if Kylie hasn't eaten a block of chocolate since the mid '80s. So pretty! The dancers! The flowing fabrics! Not to mention a top quality nude suit and some serious headpiece inspiration.
Lesson: a wind machine improves every outfit.
All the Lovers (2010)
Once again: why wear a dress when you can wear pieces of a dress?
Lesson: a pile of attractive people makes a really great accessory.
 Sexercise (2014)
No matter where you are on the gender identity/sexuality spectrums, this video will make you at least 30% more lesbian. It's just science. This video is not subtle in the slightest and is all the better for it. If you have the body confidence to go out in only a flesh coloured leotard and a pair of red heels, you should absolutely do it. It's sure to be a winning ensemble.
Lesson: Don't feel self conscious about sweat. That's just your natural glamour oozing out of you.
If you feel we missed an important Kylie look, feel free to comment and let us know. We crave your feedback.
Sophie Joske