Kylie Minogue to release new Greatest Hits collection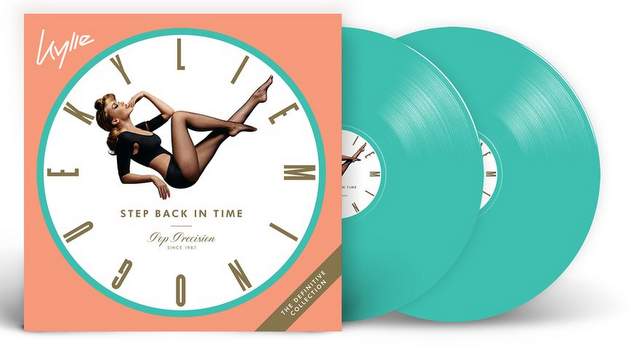 Kylie Minogue is inviting fans to 'step back in time' with her latest greatest hits offering.
For the last few days the singer's website has been counting down to an announcement, while she has been posting emoji messages spelling out 'Step Back in Time' on her Twitter account.
Some fans had hoped that the singer was about to release a covers album where she "remembered the O'Jay's" and took on a bunch of soul and disco numbers, but the announcement is a new greatest hits album tagged The Definitive Collection.
Covering the singer's 30 year career the album will be out on 28th June and will be available as a standard double CD and digital release, as well as a Deluxe CD with 32 page case bound book, 2 LP Limited Edition Mint Green Vinyl, 2 LP Standard Black Gatefold Vinyl.
The tracks included are Can't Get You Out Of My Head, Spinning Around, Love At First Sight, In Your Eye, Slow, All The Lovers, In My Arms, On A Night Like This, Wow, Step Back In Time, Better The Devil You Know, Shocked, I Should Be So Lucky, Especially For You (with Jason Donovan), Confide In Me, Put Yourself In My Place, 2 Hearts, Kids (with Robbie Williams) and Dancing.
The collection will also include on new track New York City created by DJ Fresh.
While the collection is a great selection of tracks from across Kylie's long career – it's hardly definitive. In total Kylie has released 74 singles since her first release came out in 1987.
Die hard fans get nothing new on the album, and they probably already have The Kylie Collection, Greatest Hits, Hits+, Confide in Me, Greatest Hits, Greatest Hits 87-99, Artist Collection, Ultimate Kylie, Confide in Me: The Irresistible Kylie, Hits, The Best of Kylie Minogue, The Abbey Road Sessions and Confide In Me.
With this new collection Kylie will actually have more greatest hits albums than actual albums. She also has seven live albums and eleven albums of remixes.
OIP Staff UPDATE: 04-05-10 information about additional track 'New York City' added.
---