La Soiree: A Night to Remember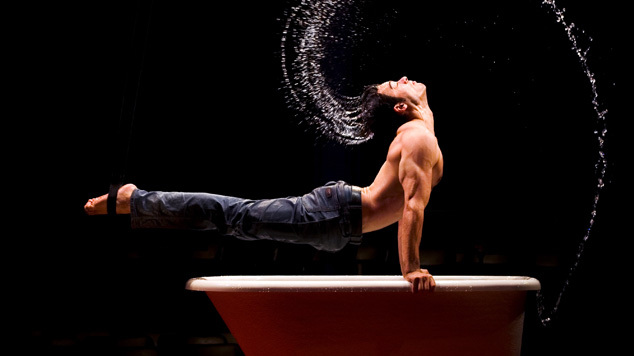 Cabaret sensation 'La Soiree' is at last making its way to Perth. The production is celebrating its tenth anniversary tour with a season at the Spiegeltent- the jewel of Fringe World 2015. Creative producer Brett Haylock chatted to OUTinPerth about how far the show has come.
"This was a tiny little alternative cabaret back in the Edinburgh Fringe, a midnight show. Way back then, nobody ever could have imagined its trajectory. When it was first created, it was a dirty kind of little subversive queer cabaret, and now over 5 million people have seen it and it's played in Paris, London, Stockholm, Chicago, New York and taken us around the world many times." Haylock said.
The producer said that the company is thrilled to be visiting Perth Fringe World. "Last winter we were in New York, in the snow, this winter we've been in London, so trying to convince a bunch of international artists to come to Perth in the summer is not a difficult task. That's quite tempting to a number of people who are currently in the Northern hemisphere."
'La Soiree' is a variety show featuring an all star line-up of performers skilled in anything from comedy to contortion. Haylock explained how the show came to take its form. "We've seen a number of these incredible artists with these amazing seven minute acts, and a lot of these artists came from the fringes of the performing arts world, whether that was from honing it off the streets, or the queer clubs of Soho, or Lower East Side Manhattan. They had this amazing material, but it kind of felt like we could create an umbrella to showcase these extraordinary artists. That's where it originally came from. Unbeknownst to us, what we were doing, and it was kind of subconscious, is we kind of reinvented an age old format of variety, and just made it relevant to a whole new generation."
The show tours around the world with a rotating roster of 30-40 artists, but Haylock said the show's debut in Perth gives the company an opportunity to introduce the show with its most iconic performers. "Perth is an opportunity because it's our first time, to bring in a number of the original signature acts. Whereas in Sydney for example, the show's played six times, we've played the last three summers, smashed box office records at the Sydney Opera House, it's the longest running show in the history of the Sydney Opera House. And so every year when we come back we have to reinvent it slightly. The spirit of the show remains the same, the kind of components within the format can change."
Haylock gave us a sneak preview of this all-star cast. "We're still working with the same family from ten years ago. There's Ursula Martinez, of course, real mainstay of the London Cabaret scene, and her now infamous hanky striptease, David O'Mare in the bathtub, it's a very very famous act now and that kind of act has been in 'La Soiree' from day one. The English Gents- that line up, it's an incredibly strong line up."
Another of the production's distinguishing features is the proximity it allows the audience to share with the performers. "The staging is just a 2.5 metre round stage in the middle of the room. So it's really intimate, it's stripped right back there's nowhere for the performers to hide and you can see everything. I mean every bead of perspiration, every muscle ripple, it's right there and nobody's hiding behind masks or anything."
Although performers of various disciplines and styles have graced the 'La Soiree' stage, there are some things that have remained consistent over the show's ten year history. "The show has never tried to weave a narrative for be preachy about its message, it's the same old fashioned entertainment. I guess what unites all these disparate artists, and is really heartwarming, and what happens over the course of the show is that each and every one of these eccentric characters endears themselves to an audience."
Having produced the show from its humble beginnings, Haylock has learned a thing or two about keeping a production fresh. He shared that something that has given 'La Soiree' its longevity is the fact that the company are still thrilled to perform. "We love it, there's no end in sight and so we just keep going until it doesn't become fun anymore. To go and do your job and then people stand up and scream and yell and squeal and shout when you finish your job for the day is a pretty rewarding experience. And we don't take that for granted. It's an extraordinary lifestyle."
Sophie Joske