La Soirée is still sensational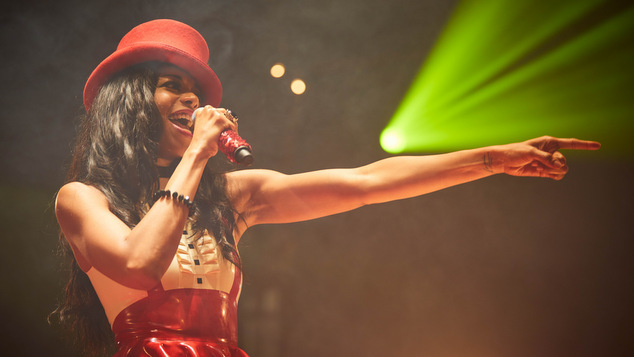 La Soirée | Fringe World | Until 26 February | ★★★★★
The cabaret circus extravaganza La Soirée has been a Fringe World favourite since it's Western Australian debut in 2015. Now a host of new acts, and some greatly loved old friends, bring the party back for another sensational outing.
The concept seems simple, a handful of the world's top entertainers join together and present a series of jaw dropping, hilarious and provocative acts, but clearly a lot of work goes into this action packed show.

The producers curate the perfect balance of performers and the crew run a tightly coordinated production delivered with precision. There's no filler in this show, every moment is captivating.
The experience begins long before the lights dim and the smoke machines begin puffing.
As you enter the Speigeltent, team members create a sense of excitement as your lead to your seats, classic circus music plays loudly. Producer Brett Haylock appears and welcomes the crowd, promising the show will start soon.
In the centre of the space is a tiny, red, circular stage. A small stage that will host a massive amount of talent.
The party begins with singer Acantha Lang stepping out to deliver a rousing rendition of Aretha Franklin's Think. Imploring everyone to let their hair down and enjoy the freedom to have a good time.
The singer, who is originally from New Orleans, has a powerful voice, an energetic personality, and appearing in a tight red PVC costume and top hat; she looked amazing too.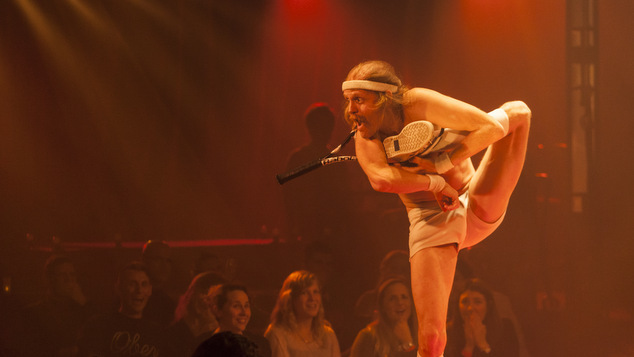 Contortionist Captain Frodo has been a highlight of all the La Soirée tours to Perth. Even though we've seen him perform his acclaimed act several times, its one of those performances that is still hilariously funny on a fourth, or fifth, viewing.
Captain Frodo 's most famous routine is where he passes his body through two tennis rackets, one slightly smaller than the other. The double-jointed performer twists and scrunches his body to the amusement of the crowd.
Wacky duo Daredevil Chicken from Las Vegas leaped on to the stage, they perform an intimate act involving bananas.
That's all we can tell you, but within the short space of a few minutes we felt a whirlwind of amazement, amusement and repulsion.
Later in the show, the duo return for a comical quick change routine that had us in stitches.
Satya Bella takes playing with a hula-hoop to the next level, while later in the program heavily tattooed Brett Pfister swings from a hoop suspended above the crowd.
Guest artist Sam Smith showed that even locally there's some world class talent about as she did back-bends, contortions and aerial work.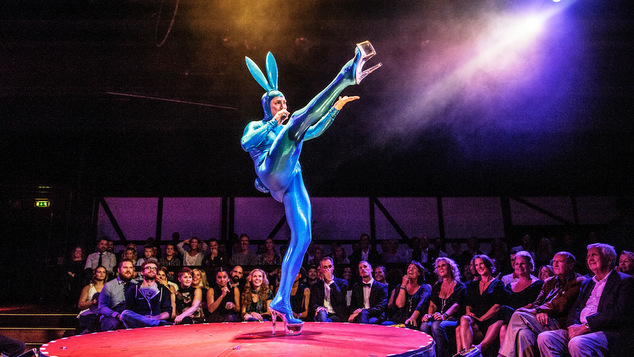 "Don't worry I'm a homosexual" proclaimed Scotty the Blue Bunny.
Dressed in a tight Lycra body suit with giant rabbit ears and giant heels, the New York native talked about how he's not using his college degree in his profession as an outrageous cabaret artist.
His presence provoked thoughts about a career change, did I miss the session where this was put forward as a career option. Is there still time to take up the pathway of becoming Graeme the Red Rabbit?
Scotty the Blue Bunny launched into a tune that encapsulates the Fringe experience, a 49 year old man dressed as a rabbit singing a Jimmy Durante song – that's what its all about.
The giant bunny man returned several times through out the show for short spots that were equally hilarious and odd.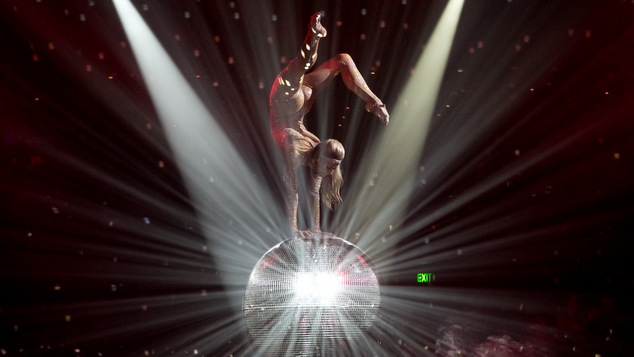 Contortionist Valerie Murzak appeared on top of a giant disco ball, which spun around while she balanced precariously on top.
Hamish McCann showed off his strength and gravity defying abilities as he spun around a street light to the sound of Nina Simone's Feelin' Good.
Lily Martinez, sister of Ursula Martinez who was in La Soirée when it first came to Perth, performed the provocative disappearing handkerchief trick.
The final act of the show was breath taking. Leo and Ursula took to the tiny centre stage. The roller skating duo spun around at break-neck speeds performing acrobatic acts. Their bodies whooshing through the air just above the heads of the front row.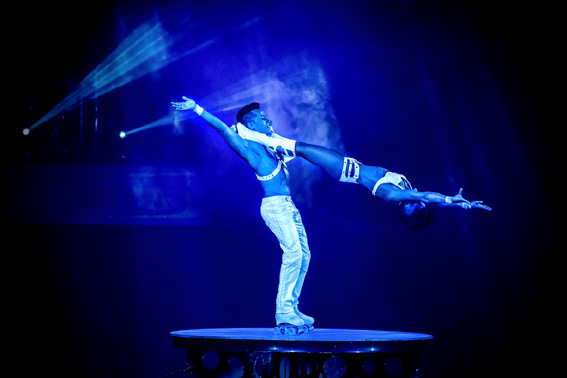 If you've seen this show before, go again – most of the performances are new and those which you've seen before are worth seeing again.
If you've never seen La Soirée, rush to get a ticket before the sell out. As always, it's sensational.
Graeme Watson