Largest Ever Defence Contingent March in Mardi Gras Parade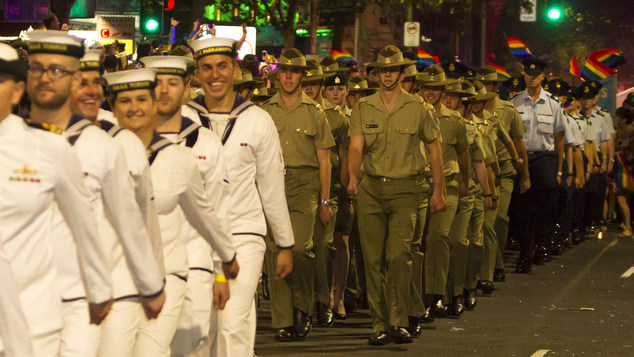 The Australian Defence Force celebrated Mardi Gras with it's largest ever contingent of marchers.
More than 100 Australian Defence Force members, together with 50 Defence civilians, families, friends and allies of the Lesbian, Gay, Bisexual, Transgender and Intersex (LGBTI) community, marched in the parade on Saturday night.
In another first for Defence, the contingent was led by the most senior enlisted members of the ADF. Warrant Officer of the Navy, Martin Holzberger; Regimental Sergeant Major of the Army, David Ashley; and Warrant Officer of the Air Force, Mark Pentreath all volunteered to lead their personnel, alongside Parade Commander, Air Commodore Tracy Smart.
Speaking to ABC's Radio National's Fran Kelly ahead of the parade, Regimental Sergeant Major of the Army David Ashley said he had no second thoughts about leading the contingent.
"…society has changed, and so has the Australian Defence Force, I know for sure that the Army has. Now it's just normal, it's no different for me standing shoulder to shoulder with our soldiers at the Mardi Gras – we're not there for the celebration, we're there for our people – than it is for any other parade."
Sergeant Major Ashley said that is absolutely okay to be gay in the Australian army and some of best soldiers in the service were gay. The Sergeant Major highlighted that people who were considering a career in the army should know that they will b valued regardless of their sexuality, cultural background, religion or gender.
The ADF Officer in Charge of the parade and President of the Defence LGBTI Information Service, Squadron Leader Vince Chong, said he was proud to see the Defence and community contingent growing each year.
"The growing participation at this parade shows that Defence Force culture has changed for the better," SQNLDR Chong said.
"This record turnout of volunteers, on an amazing night like the Mardi Gras parade, shows what can be achieved with strong leadership pushing for cultural change, even in organisations like Defence that are steeped in tradition.
"The presence and support of the most senior enlisted at the Mardi Gras parade will lead to positive workplace culture, allowing us to harness and fully utilise the talent of our personnel to defend Australia." SQNLDR Chong said.
Defence has been marching in the Sydney Gay and Lesbian Mardi Gras parade since 2008 and marched in uniform for the first time in 2013.
OIP Staff