Last Days for Axe Girl's Pozible Campaign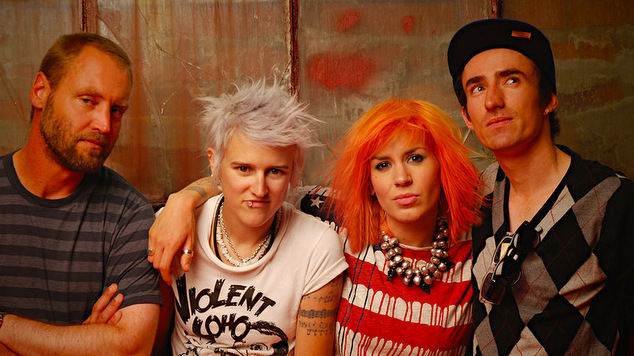 Local rock band Axe Girl have been running a Pozible campaign to raise funds for the recording of their debut album and as the final days of the campaign approach they're getting close to their target.
The band which features Axe out the front on vocals, also includes Vanessa Thornton (Jebediah, End of Fashion, Felicity Groom), Brett Mitchell (Jebediah) and guitarist Warren Myers have been making a name for themselves since forming in early 2012. Myers replaced former member Nat Ripepi who has returned to her solo career.
For loyal fans who donate to the campaign the band offers a range of incentives from digital downloads through to the band coming round to play in your lounge room. If you donate at the top level the bans even promise to head over and cook you dinner too.
Currently the campaign has raised just over $8,000 of the bands $10,000 target. With only six days remaining the band are seeking some more loyal supporters to come to their aid. In Pozible campaigns if the full amount is not reached, none of the money is transferred through.
OUTinPerth caught up with lead singer Axe to see how the campaigns been going so far.
How has been watching people donate so far?
It has been totally blowing our minds how many people have been so generous. When we first started the campaign we thought we might be wishfully dreaming, but the response has been out of this world. It feels like we have this amazing giant Axe Girl family out there and we're all working together to make this magical thing happen.
What's planned for the album?
We've written 13 juicy songs, some people will know, like 'Animatronic' and 'Teeshirt', but mostly new stuff. Themes range from death, relationships and love to Power Rangers, shoes and drag queens.
If I donate over $10,000 what might you come around and cook me for dinner, what's your specialty dish?
You know like when they serve sushi on a nude woman? it'll be like that, only with four naked platters (two quite hairy) and it'll be Mexican… like an AWESOME NAKED PARTY INSIDE A GIANT TASTY BURRITO! Yummy!
Donate to Axe Girls Pozible campaign
Graeme Watson
Read More
05-06-2012   Meet Axe Girl