Let's Talk About Snakes, Baby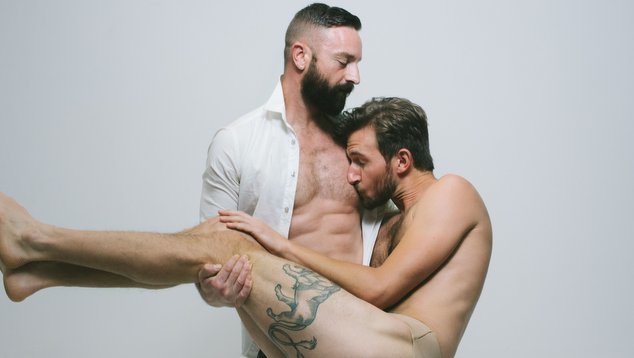 Queer performance artist Dosh Luckwell is delivering a double bill show during the Fringe World season which explores serpents and sexuality.
The first part 'Snake' is dance ritual exploring male bodies, while the second part of the program 'Bad Adam' is poetry-driven theatre exploring the ins and outs of cruising strangers for sex, validation and intimacy.
OUTinPerth caught up with Luckwell ahead of his hometown return to talk about his latest works.
How do you feel about snakes, do they fascinate you or scare you?
Besides the time when I was a kid and saw a snake attack my cat, snakes on the whole fascinate me rather than scare me. I was recently in Queensland in a mate's rainforest shack and we were visited most nights by the same snake. It was quite mesmerising watching it move. I swear if it could talk I would have done anything it asked me to. For the show, I am more interested in snakes on a symbolic level. Especially the idea of shedding skin and renewal. For example, in 'Snake' there is lots of removing of layers of clothing, peeling apples and actually peeling "skin" off.
How do you feel about sex, has it ever fascinated or scared you?
I was fascinated with sex pre-virginity; stealing my mum's karma sutra books into the toilet for a look. More recently my appreciation for erotic imagery led me to write a thesis on pornography as well as writing erotica. I find now I am becoming less obsessed about getting lots of sex and more interested in the quality of it. 'Bad Adam' is very much about the getting of sex.
How were your two shows developed?
This event will be the fourth version of 'Bad Adam' and the second version of 'Snake'. The first 'Bad Adam' took place only 16 months ago on top of a large dinner table. I had two lions as back up dancers and fed the audience apple pie. As fun as it was I felt it was more about entertainment than content and so I completely re-wrote it into the version that is (more or less) today; a poetry-driven analysis of sex clubs and sex with strangers. The next season saw the addition of 'Snake' to 'Bad Adam'. This version of 'Snake' was a solo dance piece performed by me. It had its merits however I didn't feel it was strong enough to tour to Perth. Which leads me to this latest development.
The major difference about this season to the previous ones is that the show is no longer a solo performance. The addition of other bodies onstage has freed the shows up to more many new conceptual and visual possibilities than before. I am especially excited about the addition of local performance hero Stryker Meyer as the character of WOLF-MAN. WOLF-MAN is an ancient sex beast that can both penetrate and breastfeed, amongst other things…
Your show has been described as confessional, is there anything in your life you're not prepared to share with an audience?
Yes, there is. There are parts of my life that I know would make a great story or performance that I am hesitant to put out there. Not so much because I am ashamed or unwilling to talk about the experiences, rather they involve the private lives of others in ways that I could not conceal their identities. It's a question of whether telling the story is worth hurting people close to you.
Do you think the LGBTIQ community talks more about sex than the rest of the population?
Maybe. I definitely think the rest of the population, over many years, has spoken more about LGBTIQ people's sex lives than queers have had opportunity to – and often in a very negative way. Perhaps LGBTIQ peoples' more recent openness to talk publicly about sex is a response to that; a desire to reclaim their love and sex as a positive. I see that in a lot of queer art and performance. That said, straight people do actually talk about sex A LOT too. It's just not the only thing people are expecting to hear from them.
'Snake / Bad Adam' is part of Fringe World and starts on the 27th of January. Full details at www.fringeworld.com.au