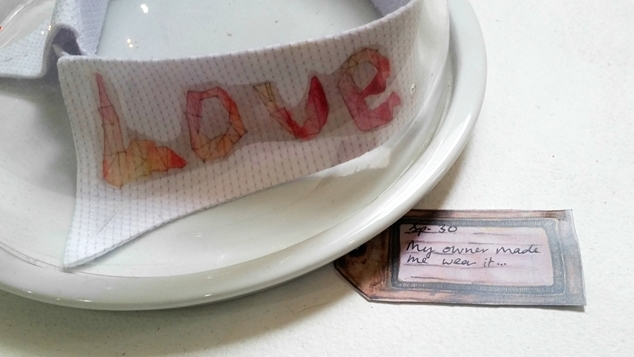 Human Becomings was Lex Randolph's first solo exhibition, hosted by Paper Mountain Gallery, upstairs at 267 William St Northbridge.
Lex Randolph's continuing investigations reveal the impacts of gender and body on identity through his art making practice utilising drawings, watercolour, soft sculpture and installation.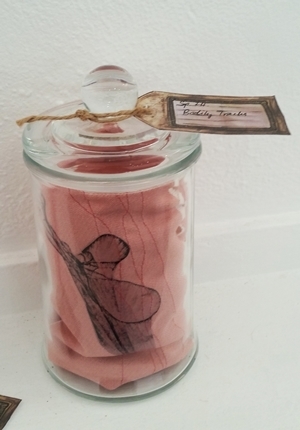 Human Becomings is a quasi-museum of real and imaginary body parts. We are taken on one of many possible narratives, real and imaginary; through the exhibition.
Playing with everyday textile materials, hand dyed, drawn on and stitched to create objects; body parts of the real or imagined.
Placed within medical specimen jars and arranged like a quasi-medical museum to create a space which comforts and questions the fluxing of gender identities.
Lex has created numerous abstract anatomy specimen of freeform textile constructions. Using a range of natural colour sources to create dyes from bougainvillaea flowers, avocado pips and skins, creating delicate flesh-tone fabrics; drawn onto with ink and utilising hand stitching.
Lex's sculptures are soft, comforting and familiar. We are invited to objectify, quantify, analyse, explore and reflect on them.
The work in part is a display of body parts within medical jars as specimens within an imagined museum space, contained and labelled; artefacts of the real and imagined human body.
These artefacts link to specific aspects of the body that are connected to dynamic and fluxing gender identities.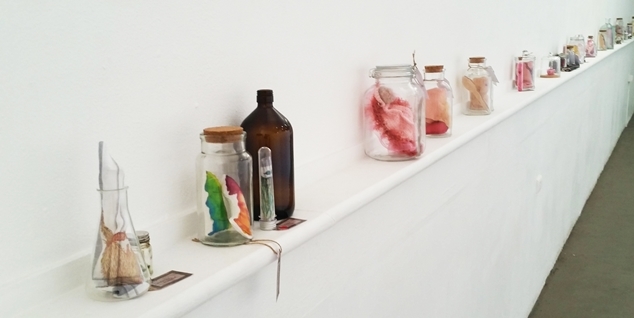 The work investigates the impacts of gender and body identity both physically and personally; real and imaginary.
We journey through a myriad of soft sculpture body parts, many placed within specimen jars, some displayed in draws like a mini cabinet of curiosities, watercolour drawings filed categorised and displayed, a series of smaller installations within, some bottles are empty others filled with drawings on gauze-like bandage material.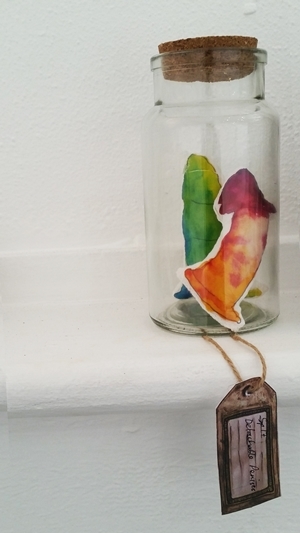 The three-dimensional quality of works allows us to see things that are very difficult to see in a living person; real and imagined.
A collection of imagined and real body parts now stored and preserved for future display, research and investigation. Opening up conversations around dynamic and fluxing gender identities.
Humans continually re-imagine and re-define who we are, becoming something new or different; on-becoming.
Human identity, the physical body is in constant change, the work reflects on and challenges how physical bodies contribute to our sense of self.
We are allowed to reflect on what can possibly become of the human body with gender contained within; inside and displayed outside on our physical surface of skin hair and somewhere in between.
Lex wears his heart on his sleeve, a maker who shares his personal story to create artwork, sharing personal ideas, crafting these into forms which challenge and evoke collective and individual memories and ideas around the body and the fluxing of gender identities, creating conversations raw and intimate; exploring human identity.
Human Becomings has now closed but to see more of Lex Randolph's incredible work, head to LexRandolph.com
Guy Gomeze
Images:- Guy Gomeze