LGBTI rights advocates call on Hastie to explain his religious campaigning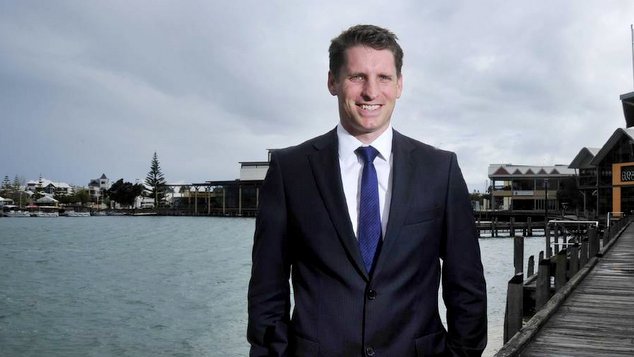 Equality advocates at Just.Equal have called on the Member for Canning, Andrew Hastie, to explain to his electorate why he supports publicly-funded faith schools having the right to deny educational opportunities to LGBTI students and sack LGBTI teachers.
The call comes in the wake of news yesterday, that Mr Hastie has been rallying religious leaders in his electorate to oppose changes to the law promised by Labor to end this discrimination.
The West Australian reported that the politician has become involved in a public spat with one priest after he allegedly pleaded with religious leaders to voice their support for the current government.
Hastie was joined by Queensland senator Amanda Stoker, and Peter Abetz – the WA head of the Australian Christian Lobby, at a meeting earlier this year where they argued against reforms to protect LGBTI students and staff from discrimination.
After the meeting Anglican priest Father Ian Mabey, whose parish is in Mandurah, told his congregation he would not be directed on what to preach by politicians . Father Mabey subsequently preached a message of acceptance and understanding of all.
Hastie has hit back at the minister describing him as a "failed political candidate" who is know spreading the word of the Labor party. Maybey ran as a candidate for the Liberal party in the 1990's.
"Father Mabey is a failed political candidate now pushing his own politics from the pulpit," Hastie said.
"Truth should be his first calling — not partisan politics."
Spokesperson for Just.Equal, Ivan Hinton-Teoh, said that under existing law LGBTI students and teachers suffer discrimination at church schools, with the two most recent and iconic cases happening in or near Mr Hastie's electorate.
In 2015, a seven year old girl was threatened with expulsion from Mandurah Christian College after the principal discovered she had a gay parent. In 2017, English teacher, Craig Campbell, was sacked from his job at South Coast Baptist College in Waikiki when the school found out he is gay.
"Sexuality or gender identity should never define or limit a citizen's right to access education or employment," Hinton-Teoh said.
The Labor party has vowed to end this discrimination if elected to government. The Coalition has previously promised to enact legislation but was unable to agree on the wording of legislation. The proposal has now been sent to the Australian Law Reform Commission, and move which is seen by many as a way to push the issue off the agenda until after the federal election.
"Preventing the expulsion of LGBTI kids and sacking of LGBTI teachers is not an attack on religious freedom, it is an attack on unjust prejudice and the vast majority of Australians support this move."
"It is now up to Mr Hastie to explain to his community the value of oppressing kids and teachers for nothing more than their sexuality or gender identity. It is not freedom he is advocating, it is unjust oppression. Today the majority of fair-minded Australians see it for what it is," Hinton-Teoh said.
OIP Staff
---