LGBTI Venues Explosion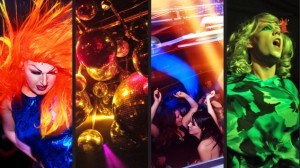 Twelve months after everyone has complained that Perth needs a new gay pub it seems that new events for the LGBTI community are popping up faster than pimples on prom night. Established LGBTI venues are evolving, existing venues are becoming LBGTI spaces, new nights are offering options and there are even some brand new LGBTI venues on the cards.
NEW NIGHTS
The Shack, at 418 Murray St is one of the venues currently adding an LGBTI night to their mix, with their new Sunset Sundays. The beach-shack themed space is open from 3pm til late for a Sunday session with drag shows, singing, dancing and a relaxed vibe for a Sunday session for all the community. Well placed for a relaxed bevvie after Sunday shopping in the City, the Shack is described by manager Ash Wright as offering something for everyone.
Following the gradual decline of the Grapeskin Pride women's nights several years ago there was a dearth of regular events for women. Over the last year the crew from Girlfriend have had Leederville's Double Lucky jumping with their women's nights on each last Thursday of the month.

Sugar have also stepped up with a sweet night for girls who like girls every second Friday. Initially at Luxe, then Universal Bar, Sugar have now found a home for their shenanigans at Bar 138. When OUTinPerth dropped in to Sugar last week the vibe was upbeat and the women there were happy to chat. One of the refreshing aspects of the night in a community that sometimes appears to coordinate uniforms before venturing outside was the mix of women; from the three body painted goddesses getting right into the animal theme; to vintage inspired femmes to casual sporty and more serious business types. While Sugar has been created for lesbians and bisexual women it also welcomes the rest of the community.
According to Ashara, one of the enthusiastic team of organisers, Sugar have put in the hard yards to create a regular event that is fun and up to date with the community, saying,
'There's loads to love. Great venue, live acts from the community both DJs and bands, chilled atmosphere, great place to meet people. There's a full bar, dance floor and open chilled out area to have a good chin wag.'
A venue taking another shot at running a successful women's night is the Brass Monkey, with their new Lady Luck event. To be held every Wednesday, Brass Monkey manager Michael explained the night would be offering a mix including Burlesque performers and classes. If you're planning on hanging around for the lesbian mud wrestling at Connections, its worth getting in to Lady Luck early to nab a free voucher.
Regular events that cater to the community in general include Sunset Coasters – a long running social group for professionals. Mostly men, the group is run by George Wilkinson and brings together a charming and eloquent ensemble monthly. The monthly change in venue seems to be a formula that works for this group, with Sunset Coasters events consistently well attended.
Other social events include Disco Incorrecto sundowners at Loton Park, Pride Women's Sundowners at Universal Bar, the cabaret filled Club West and regular Perth Bears events.
VENUE EXPANSIONS
The big rumours in the venue explosion however have been about new venues – and major changes at long stayers The Court and Connections.
Court Hotel owner Bree Day wasn't giving away much regarding expansions at the Court, however she confirmed that plans are proceeding to develop the upstairs space at the venue, with the new space anticipated to open by the end of this year or later next year.
At Connections however, owner Tim Brown is excited to share the upcoming developments planned for the club. Following extensive community surveys,  Connections have developed and got approvals on plans for the addition of a lounge space to the existing club. With the plans approved and builders engaged, the opening of the new space is looking likely for mid-year 2012. According to Brown, the new area will have the same vibe and musical style as the existing terrace space, allowing for an interior relaxed alternative to the main nightclub room, telling OUTinPerth that the new space would be all about,
'Big, comfortable couches, relaxed and funky tunes played at a level where you can talk and a bigger terrace that you can move freely into from the inside lounge. Cocktails and tap beer and twice as many toilets! No need to queue up any more to get outside!'
While offering a very different experience to the nightclub, the new lounge will form a part of the new landscape of LGBTI- dedicated venues,
'It's definitely a regular thing. Open every night that Connections is open and the whole club will be opening one more night of the week. The lounge will be open earlier every night. Sort of like a sophisticated lounge bar for our community that's open til very late within Connections.
'The space is for the whole LBGTIQ community and our friends – as Connections has always been, and will remain.' Brown says.
NEW VENUES
In the new venue space there's rumours and there's rumours. Two that have moved further than a twinkle in a licensee's eye are Honey Lounge and X-Large.
As we go to print the exact location of Honey Lounge is still under wraps. But let's just say that a space not unfamiliar to elements of our community is now a hive of activity. According to owner Maria Katsikandarakis Honey Lounge is for
'the community at large, those who love style, sophistication and people with long, elegant fingers.'  –  a policy that is surely going to provide security staff with an interesting job in elegance assessment!
Honey Lounge launches on March 23rd and will be open nights from Tuesdays to Saturdays, and what to expect?
'It's different, it's quirky, and it's new on the scene. Picture James Bond on mushrooms, quality cocktails, decadent champagne and delectable morsels.  Taking a step back to the basics; electro, pop, acid disco, neon lights and happy smiling faces. ' says Katsikandarakis.
Further ahead, in the planning stages is a small bar with a big name under development from the team behind Connections. X-LARGE is a small bar that has been proposed for the laneway between James St and Chinatown – an area that is ripe for development of intimate venues.  The new venue is conceptualised as a raw, simple bar that will provide a welcoming venue for an older crowd and men.
Tim Brown explains the thinking behind the new space;
'Tap beer and a pool table. Somewhere to hang with our friends and community where you can relax and chill. DJs playing disco, classic house and gay favourites at levels where you can still talk.
The bar will be open early, 6pm til midnight, five nights a week.
'It's for the whole LBGTIQ community. It's primarily aimed at an older crowd and at men but that doesn't mean women and younger people in our community won't be welcome. It's for all of us.
Beer, pool, disco, good company and community.'
Old nights, new nights, established venues, new venues – if socialising in LGBTI friendly space is what you're looking for it seems there is a plethora of options. What remains to be seen is how enthusiastically the community will come out to support them.
Written By Zoe Carter