Lifeblood say they can't bring in blood donation reforms earlier than 2021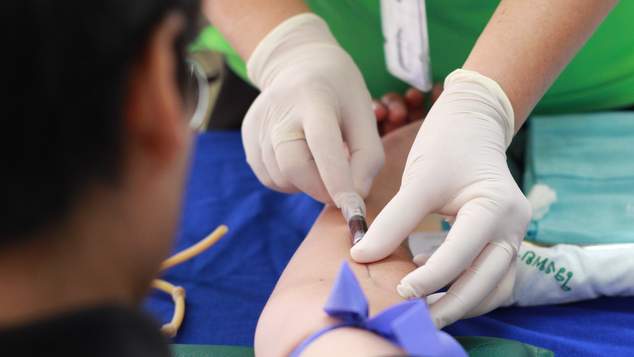 LGBTIQ+ rights advocates have accused Australia's blood donation service, Lifeblood (formerly the Red Cross Blood Service) of a double standard after it lifted the ban on blood plasma donors with tattoos while maintaining its ban on gay, bisexual and trans (GBT) donors.
This week, Lifeblood announced the four month period between obtaining a tattoo and giving blood plasma would be abolished. Gay, bisexual and trans donors however must still abstain from sex for twelve months before giving blood.
Spokesperson for national LGBTIQ equality organisation, just.equal, Rodney Croome said the organisation needed to move faster in removing the discrimination against gay, bisexual and trans donors.
"We welcome Lifeblood's decision to allow blood plasma donation by tattoo recipients, not least because it was based on solid scientific research."

"Similar scientific research from the around the world has shown that replacing the current gay, bisexual and transgender ban with individual risk assessment would lower disease risk and increase the supply of safe blood, yet, Lifeblood is impervious to this science."
"It is a double standard for Lifeblood to allow donations from tattoo recipients but not GBT people, and it is a double-standard for them to heed science in one instance and ignore it in the other."
"The only explanation for this double standard is that Lifeblood is acting out of prejudice, or in fear of other people's prejudice, neither of which is an acceptable basis for public health policy."
In April, Australia's blood authorities announced the twelve month celibacy period would be reduced to three months but six months later this still has not occurred. Just.equal says its time for LGBTI Australians to write to Health Minister Greg Hunt and find out why the change has not been implemented.
A spokesperson for Lifeblood told OUTinPerth that they would be changing their policies in relation to gay, bisexual and trans donors early in 2021.
"Earlier this year, Lifeblood made a submission to the Therapeutic Goods Administration (TGA) to reduce the wait time for donating blood for men who have sex with men from the current 12 months to three months since the last sexual contact." a spokesperson for Lifeblood said.
"The TGA, federal and state governments have all approved our submission and the change will come into effect in early 2021.
"Lifeblood would like to make it easier for all Australians to give blood, while ensuring Australia's blood and blood products are as safe as possible for blood recipients.
You can read more about Lifeblood's submission to reduce the waiting period
here.
The decision to remove the ban on people who have recently got a tattoo follows a study involving 25,000 people that was conducted by the Kirby Institute. The change in policy is expected to attract 17,000 new donors.
Across the world the period gay. bisexual and trans people must wait for donating blood or plasma varies greatly from country to country. Many countries, including Argentina, Brazil, Bulgaria, Chile, Israel, Italy, Mexico, South Africa and Spain, have no waiting period. Others like Canada, Denmark, France, the United Kingdom and the United States only require a waiting period of three to four months.
Taiwan requires gay and bisexual men to wait five years while since they last had sexual contact before they can donate, while Thailand, Singapore, The Philippines, Malaysia, Iceland and many others have a complete lifetime ban.
OIP Staff
---

Love OUTinPerth Campaign
Help support the publication of OUTinPerth by contributing to our
GoFundMe campaign.