Lionizer Comes Home With New EP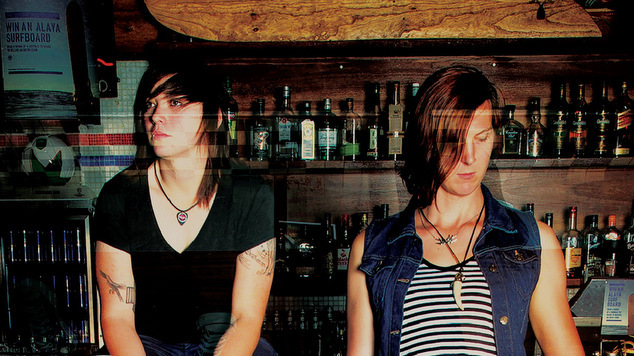 Perth indie punk duo Lionizer are returning from a tour over east this week to launch their new EP, 'Come Home'.
I spoke to drummer and backup vocalist Bailey Lions about the band's latest offering. Over the phone I could hear cars driving by in the background as she took shelter outside the Melbourne venue they'd play at later that evening.
"I'm feeling really good, it's had a lot of positive responses so far. We've been sending back to all our Pozible donors who are the people who actually helped support and fund the album from the get go, and they've been enjoying it and leaving lots of positive feedback and telling their friends and we've been playing lots of cool shows to those people. Now we're halfway around Australia and playing shows in Adelaide, Melbourne, Sydney and Newcastle. I'm feeling really stoked about it actually."

Lions says that she and band mate Vez Litten get songwriting inspiration from their personal relationships, but it's not just breakup songs.
"We don't just sing necessarily about our partners or our romantic relationships we sing a lot about our friendships and our interpersonal relationships that we have with I guess like everyone in our lives and while there's definitely individual people who would probably be inspiration for a particular song, like a combination of people that we know or personality traits that we know that sort of go into creating these narratives now. It's less you know, 'this person's a shithead and I'm going to write a song' and it's more 'I feel this way about this kind of action that these sorts of people take and I'm going to sing about that.' Trying to just broaden that scope out a bit and deal with things that are a little bit larger than just being broken up with or just trying to get over your last boyfriend or whatever. It's definitely more about actual personal relationships and friendships and I guess those on a broad scale."
'Come Home' features their trademark 90s vibe with addictive melodies and introspective lyrics. Lions says they took inspiration from some U.S. punk groups.
"The biggest inspirations on Vez and I lately, definitely in the lead up to writing this album are The Front Bottoms and I guess our classic ones like The Weakerthan or Lemuria. These sorts of more like indie rock, indie punk bands coming out of the States who just have more of this sort of free flowing, stream of consciousness-style songwriting and we've kinda started to tap into that."
Lions and Litten have a number of different musical heroes, as I discovered when I asked Lions who she'd most want to open for.
"That's a difficult question. At the moment- I guess if I was answering for Vez she would probably say The Front Bottoms. She just really loves that band at the moment. If I was gonna say who I'd love to open for at the moment I would say either Against Me or The Smith Street Band. Not because I actually think we fit their styles at all but that'd be fucking rad shows to go backstage on and meet people. "
Lions said that community involvement is a really important part of Lionizer is community involvement, and she's especially chuffed with the response the band's Pozible campaign attracted.
"The album was funded by our Pozible campaign and we had a lot of people contributing a lot of money which is fucking excellent to see the local scene giving so much back and we're just really stoked to have this opportunity now to turn that around and make good on all our promises. It feels really cool to have that community support and then to sort of push it back and be a part of that community so we're really looking forward to seeing our fans down but also we're really looking forward to, I guess, supporting those bands and our community in what they're doing in the future and we really hope that that continues to be ongoing.
"We want to make sure that people can relate to the songs and people can find their own meaning in the songs and people can feel safe and feel like these songs do deal with the things that they're feeling and not just the events that happened to us two weeks ago.
"Not necessarily universal but not strictly personal. I was trying to make sure that there's something for everyone in that sort of sense that people can relate and that people can get into it, no matter if they have a boyfriend or a girlfriend or no matter if they've had some really shit friends or some really great friends anything in between, you know?"
Lionizer will be launching 'Come Home' at Flyrite on Friday 2nd of May. More details here.
Sophie Joske