Lloyd's Urban Wilderness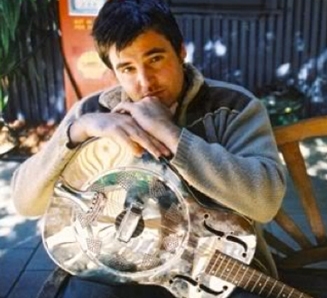 Alex Lloyd is one of Australia's musical successes with four ARIA awards under his belt and a career spanning 7 records (including a best of) over 15 years. Most known for his hit 'Amazing' which topped in at number 1 on the 2001 Triple J Hottest 100, Lloyd has been hard at work putting together a new record which allowed to delve into his archive of unreleased songs and after spending time with his family and living over in the UK he's back in Australia and coming to WA for a special performance.
It's been over 5 years since you last toured, has your focus been on writing and producing? What have you been up to?
Mainly writing. I've been living over in the UK for the last 6 years and I've done a lot of writing with a lot of younger, up and coming artists from Europe and America who kind of come to London to write with people. I had a manager over there that kind of specialised in that. I've been working on my own stuff but it's been a good time to enjoy taking my kids to school and kind of getting into family life while still managing to work in the studio.
Has your experiences abroad changed your approach to work and your song writing?
Yeah I think so, funnily enough I did film soundtrack with the Pigram Brothers in WA. That really changed my focus where I became more open to work with other people and I really enjoyed that process.
That was your collaboration with the Pigram Brothers on the film 'Mad Bastards' where you later toured together… What was your best memory of that experience?
Just travelling around the Kimberly! I was living in London at the time and I would go out for a month's stint to WA and I wouldn't even come to the east coast of Australia. I'd just come to Perth then fly straight up to Broome and then we'd drive to Kununarra stopping along the way and playing music under the stars. It was a lot of fun and it was an amazing experience.
How do you find the music scene in Australia after several years away?
Well there's lots of bands that I don't know the names of. I hear them on the radio and I just don't know who they are because I guess I've just been out of the loop. There's so many new bands that have come up since I've been gone.
What can we expect from your one off show at Fly By Night from your Urban Wilderness Tour?
I'm playing acoustically, it's just me. I've been doing random acoustic shows; I did some in Melbourne and Tasmania and I haven't been to WA for this album yet and I saw this as an opportunity to come over. It's really quite intimate and I'll probably only be doing a few songs off the new record because I've got to pick out of the six records that I've done, the best ones for the set.
So we can get excited to hear some of your older well known tracks?
Yeah loads of it. It all lends itself really well to the acoustic guitar so it's kind of the vibe I've gone for and hopefully going to be a great sing-a-long night more than anything else.
'Urban Wilderness' is different to your previous albums; the songwriting seems to have an element of funness and real sense of enjoyment to it. Tell us about the making of that album, and what contributed to joyous sounds it presents?
I made it as soon as I got back to the UK and I guess that there was a sense of sunshine and light at the time that I wasn't used to… The demos for the record; some of them were similar but a lot of them were quite different because I did the demos in the UK and the record here on the coast; next to the beach, so I guess maybe it's got a bit of that energy that's been drawn into it.
We love your new track 'Waterfall', tell us about the song…
I wrote that about my first son Jake, I wrote it years ago actually and I didn't put it on any records I just sort of had it lingering around. This record was a bit like that, there's a lot of songs I've written over a long period of time like 5 or 6 years and I've sort of put them all together and it made an album. I guess I came back with a bunch of songs in my kitty and went to a mate of mine, Shane Nicholson, and asked him if he wanted to help me produce it. I didn't know if I had a record or not and he seemed to think I did so now we have the end result.
You were a part of Celebrity Masterchef in 2009 and your chocolate swirl croquembouche was an absolute disaster. Have you managed to perfected it yet?
Nope and I don't have any desire to! I know this might sound like sour grapes but it didn't inspire me at all…
The experience or the croquembouche?
The croquembouche! I think it's a bit of an ugly looking dessert, I'm not really a dessert kind of cook anyway; my wife is excellent at that so I don't have to have to bother cooking that sort of stuff. She writes cookbooks on desserts so *laughs* I handle more of the savoury kind food.
Will you be touring and performing live more, what next for you?
I'm just going to do what I can at the moment and when I can. I'm going to try and do things pretty randomly I think. It's harder these days because of the way everything is [with a family], to plan a big tour so I think it's easier to kind of go with the flow and do things when you can.
Alex is playing at Fly By Night on Friday June 6, tickets available through the venue's website.
Ryan Boldison