Local hospitals support IDAHoBIT Day with flag raising ceremony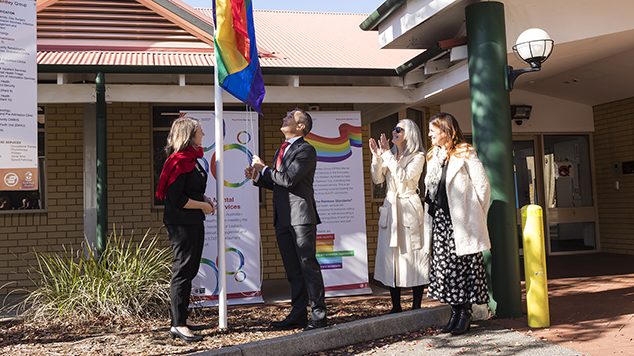 Royal Perth and Bentley Hospitals marked International Day Against Homophobia, Biphobia, Intersexism and Transphobia (IDAHoBIT) last week with a flag raising ceremony.
Health Minister Roger Cook and federal WA senator Louise Pratt were in attendance to do the honours of raising the flag at the Bentley campus.
Earlier this year the mental health inpatient services at Royal Perth Hospital (RPH) and Bentley Hospital achieved Rainbow Tick accreditation which formally recognises their support and respect for the LGBTI community – both staff and patients.
Significantly, RPH and Bentley are the first hospitals in WA to achieve the accreditation, and only the third within the Australian public health system.
Health Minister Roger Cook said it was important that members of the LGBTIQ+ communities could visibly see that health services were welcoming places for them.
"The addition of the rainbow flag, located on site at Bentley Hospital, is an important indicator that safe and inclusive mental health services are being offered to members of the LGBTI community.
"When accessing mental health services, LGBTI people may experience increased feelings of stigma or discrimination, due to a fear of judgement from their health care professional. This accreditation is a first for any public hospital in WA and a credit to the team at East Metropolitan Health Service.
"Achieving Rainbow Tick accreditation is an important step towards ensuring our State mental health services are accessible and inclusive for everyone visiting or seeking treatment, as well as providing a friendly and welcoming place of work for our staff that identify as LGBTI." Minister Cook said.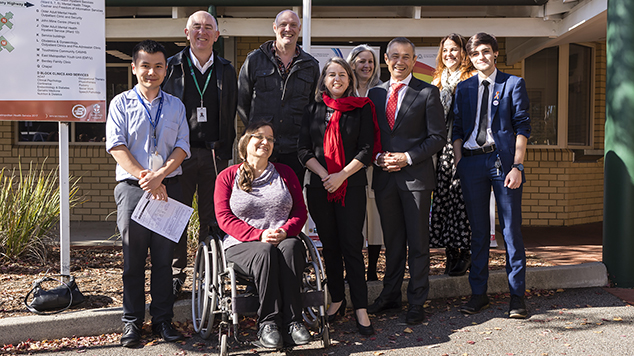 The Western Australian government has said it is committed to tackling the higher rates of suicide and mental health issues within the LGBTIQ+ communities, with rates of depression over five times higher among transgender people and 3.5 times higher among lesbian, gay and bisexual people.
Both hospitals have been working toward achieving the accreditation since February 2016, and undertook an extensive education program and policy and practice review to better promote and inform staff of practices that promote LGBTI inclusivity.
As part of that process, a number of staff volunteered as 'Rainbow Champions', and it was their role, along with 'lived-experience representatives' and LGBTI community members, to support staff during the stringent accreditation process.
To achieve the accreditation, applicants are required to demonstrate achievement against a set of nationally agreed standards. The accreditation is administered by independent accreditation provider, Quality Innovation Performance and developed by Rainbow Health Victoria – Australian Research Centre in Sex, Health and Society, La Trobe University.
OIP Staff,  Note: The team at OUTinPerth were actively involved in the hospital's process of gaining rainbow tick accreditation. We took part in several professional development exercises undertaken by hospital staff. 
---