Local queer poet Jesse Oliver wins Australian Poetry Slam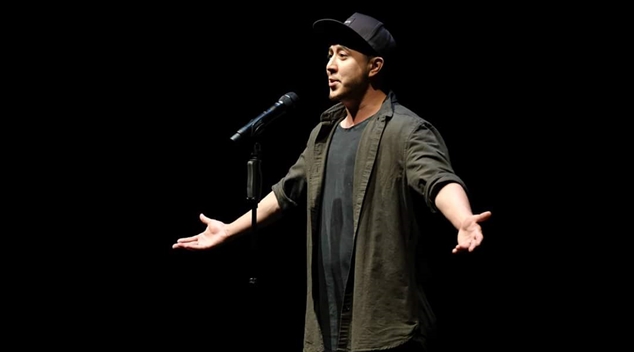 Slam poetry is the competitive art of performance poetry. You could also say it's the competitive art of being brave and authentic with yourself, of having the audacity to get up on a stage and allow an audience to judge your words, your poem. After all, there is certain amount courage required in revealing the innermost you to a bunch of strangers with scorecards.
It's something Perth poet Jesse Oliver understand all too well. It's also something he takes seriously, and so he should: Oliver just won the Adult Division of the Australian Poetry Slam, the peak competition of Australian slam poetry. Oliver took some time to chat to OUTinPerth about slam poetry, winning the Australian Poetry Slam at The Sydney Opera House this October and how his identity as a trans man informs his writing.
Somebody described your poetry as being heroic. Is this a sentiment that you agree with?
I certainly feel heroic when I perform. I write things that I like to hear myself. The way I started writing poetry was as mantras to myself. Once something is in your head it can be like a cloud that floats past. Those thoughts aren't really concrete: you can catch them and let them go. But as soon as you turn it into a poem and you start saying it and projecting it, it becomes reality. That's why I started writing what I write, because it's manifesting energy that makes me feel bigger than what I am and more powerful than what I am and I hope that's the feeling that is conveyed.
Is it true that you started writing and performing poetry because you had crippling social anxiety?
Yes, that's true. The first slam that I tried to win in 2015 I remember… well, I don't actually remember much but I remember having clouds completely through my head. When you have social anxiety it's like a physical thing, not just a mental thing. So I get all of the blood rushing out of my hands and legs and all to my head, so I felt like I was about to faint and I had to remember all of the therapy that I'd had, like putting my hands on my head, standing tall, remembering to breathe. It was incredible.
So what led you to slam?
I was studying psychology and anxiety and one of the things I read was that if you are strong enough to face your fears, it negates all the beliefs that you hold about yourself and what you believe is going to happen. For example, performing on stage, the things going through your head are 'nobody is going to like your poem' and 'nobody is interested in what you have to say'. So my philosophy was that if I did it I could either prove myself right or wrong and then that would be concrete evidence of my beliefs. The beautiful thing that happened was that I wasn't that bad at poetry (and performing it). People came up afterwards saying how my piece really manifested with them. They expressed their appreciation. That taught me that every thought that I had about myself and my poetry was absolutely wrong. It was a beautiful match of something that I really enjoyed doing and something people loved that I shared. So it turned into a resolution.
So you managed to change that resolution into your own personal revolution in that this year you took out joint first place at the Australian Poetry Slam at The Sydney Opera House in October. How did you manifest this?
One of my biggest idols is Zohab who won in 2015. I remember meeting him at the National Young Writers Festival. I remember him saying to me that when it's your time, it's your time… and you'll know. It's when you're doing it for yourself. It's not when you're trying to win, it's not when you're trying to be the best (in the competition), it's when you write poetry that really resonates with you. That's what will take you there. When I signed up for the WA heats this year I remember thinking 'just do it… just see what happens', and it was the first time I had entered a slam where I thought 'this will be fun'. So I won that heat and it just rolled on from there and, seeing that faint pathway to performing at The Opera House, I started thinking about things in my poetry that were bigger than myself. And so I began thinking about what sort of message I would want to present.
What did it feel like walking it The Sydney Opera House, knowing you were going to perform there?
Absolutely amazing. And the best part was I was with Kai (Schweizer) and I love Kai and his poetry and I was like 'what are the chances that two trans guys had taken first and second place to appear at the National Finals'. I don't think at any point I cared if I won or placed because performing my poetry at The Opera House was already a win in itself. Placing where I did was just icing on the cake. I met so many cool people who do the same thing as me from all around Australia too. They are probably the thing about it I will remember the most.
How much does your identity of being a trans man appears in and shapes your poetry?
The first time I entered a slam I didn't want anybody to know I was trans because the one thing I was really scared of was people recognising me for being trans before they recognise me as being a good poet. And that feeling haunted me. Slam poetry is voted by the audience and if they knew I was trans I was so scared I would get a sympathy vote and I'd hate that. But then at the National Young Writers Festival I was invited to speak on a panel about being a trans writer. At first I was upset about it. But I really learnt a lot from that panel and I met a lot of other trans writers and I realised it was important for people to know I am trans because I wish I had seen trans writers come through because… we all need that visibility, that representation.
You've talked a lot about manifesting your destiny in regards to slam poetry and writing. What would your manifesto for slam poetry be?
I think there are a few integral things you need to do, but I don't think they have much with what you need to say or how you say it. I think slam poetry needs to be true to your self. It needs to have a certain amount of integrity. And you need to be able to access that integrity every time you perform it.  So whatever it is you write about, it needs to be true and it needs to be something you can revisit. Some things we write are not always fit for public consumption so I think with slam poetry, the main thing is touching your audience. You're handing over the reins to the audience to decide what is good art and what is bad art. So the main thing to do is make sure you're handing over something that is true to yourself, that you can stand in and that you can have the courage or confidence to say to other people, something so true to yourself that it just gets them.   
Jesse Oliver will be performing at the Nostalgia edition of Spoken Word Perth tonight, Wednesday 6th December 2017, from 7pm at Paper Mountain, William Street, Northbridge.
Please visit www.facebook.com/jesseslamoliver for more information on Jesse Oliver.
Scott-Patrick Mitchell
---
Support OUTinPerth
Thanks for reading OUTinPerth. We can only create LGBTIQA+ focused media with your help.
If you can help support our work, please consider assisting us through a one-off contribution to our GoFundMe campaign, or a regular contribution through our Patreon appeal.