Love Letters: Bel and Becka's love story takes in three countries
The opponents of marriage equality have claimed that the survey on marriage equality is about everything from education programs, to freedom of speech, to fighting political correctness.
We know that the call for equality is simply just recognising the love between two people, and their desire the formalise that commitment before their friends and families.
As we fight for the right to be able to get married to our loved ones, we're sharing stories of LGBTI couples, and we want you to send us your story, like many couples have already done.
Meet Bel and Becka.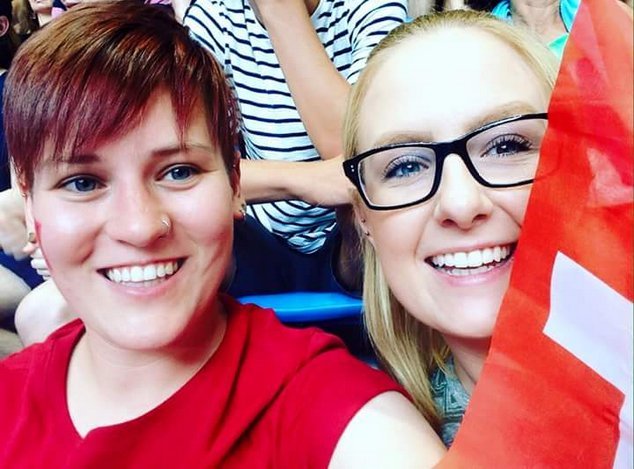 Who are you? 
I am Bel (left), I'm 27 and this is my fianceè Becka (26). I am Australian, born and raised in Perth and Becka is English having grown up in Norfolk. We currently live in Edinburgh, Scotland.
How did you meet?
We met in London. We were both living there at the time and I became friends with Becka's housemate. I was always hanging around her house so we got to know each other a bit.
We really started becoming friends after Brighton Pride which I was attending with my friend and Becka was working at the backstage area. She got me a gold wristband so I could come into the backstage area and hang out with her and drink free alcohol.
Ruby Rose was performing so the first thing Becka and I ever really did together was to meet and get a photo with Ruby. Back in London after the Pride festival, I took her out for a drink to say thank you and our relationship developed from there.
How long have you been a couple?
We have been together for two years. After six months of being together I revealed to her that I was moving back home to Perth to start my master's degree and she said she had never been to Australia and would come with me.
So we got her a visa and we spent 2016 living in Perth. At the beginning of this year we returned to the UK and have made a home for ourselves in Edinburgh.
What's your favourite thing about each other?
There is so much that I love about Becka but my favourite thing is the endless and unconditional support she gives me in every aspect of my life.
If i have a new crazy idea I want to try she will always support me and assist me with it, if I want to change jobs she will help me to look for new ones, if I have a university assignment due she will bring me cups of tea or send me messages of encouragement.
I always feel like no matter what life throws at us, with Becka there with me, we can handle anything.
What has been a big moment in your relationship?
Our relationship has had many big moments with us having lived in three different countries in under two years.
However without doubt our biggest moment was when I asked Becka to be my wife in November 2016. We went for a hike up to Lesmurdie Falls and as she was looking at the view of the waterfall I knelt down behind her and pulled the ring out of my bag.
When she turned around I was down on one knee and I asked her to marry me. She said a tearful yes straightaway and then called her family and friends in England, waking them up in the middle of the night. Of the many happy days we have had together, that one has been the happiest… so far!
Why do you want to see marriage equality in Australia?
I want to see marriage equality in Australia because it is the right thing. I can't really say more than that. Everyone is equal and everyone deserves equal rights.
How do you foresee your wedding day?
We have booked our wedding in for July 28 2018. We are getting married in Edinburgh in a full legal wedding ceremony.
Our wedding is going to be a giant party. All of our important family and friends are travelling to Edinburgh for it and we aim to make their trip worthwhile by putting on a great day and night for them all.
I can't wait for our families to meet and to stand up in front of them all and make a commitment to my beautiful wife. She is way too good for me, I gotta marry her before she figures that out!
If you want to send us your Love Letter, click here and get writing, and read other stories in this series.
---
Support OUTinPerth
Thanks for reading OUTinPerth. We can only create LGBTIQA+ focused media with your help.
If you can help support our work, please consider assisting us through a one-off contribution to our GoFundMe campaign, or a regular contribution through our Patreon appeal.