Madonna accepts GLAAD 'Advocate for Change' award in New York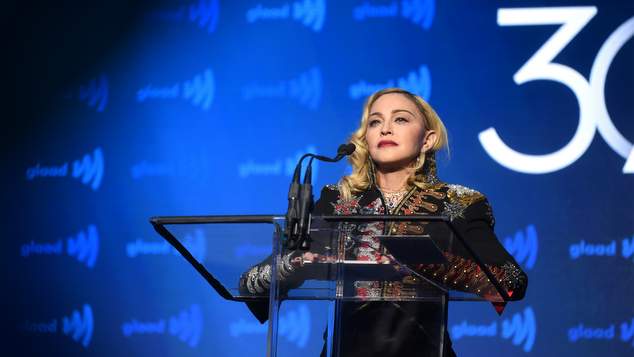 Madonna has been given an award for her decades of advocacy for LGBTIQ+ rights at the annual GLAAD Media Awards.
GLAAD, the world's largest lesbian, gay, bisexual, transgender, and queer media advocacy organization, announced recipients for the remaining 13 of this year's 27 categories for the 30th Annual GLAAD Media Awards.
Madonna received the Advocate for Change Award from Anderson Cooper, while Andy Cohen received the Vito Russo Award from Golden Globe-winning actress Sarah Jessica Parker at the star-studded ceremony at the Hilton Midtown in New York. Drag superstar Shangela hosted the event.
Madonna accepted her award reflecting on her 1991 documentary film Truth or Dare: In Bed With Madonna saying she never realised it would have such a generation impact.
Madonna said she recognised the film, which featured a troupe of mostly gay backing dancers and footage of a AIDS protest march in New York, had created an opportunity for many people to embrace their sexuality.
Madonna said the film gave people "the courage to just come out, and be free, and take a stand and say 'this is who I am – like it or not." Madonna said looking back on the film she was horrified by her "brattiness" but she was pleased the film gave people hope.
Madonna also spoke about her work combating HIV and orphaned children in Malawi, and making the film I am Because We Are, to raise further awareness.
OIP Staff, Photo by Jamie McCarthy/Getty Images for GLAAD
---