Madonna Reveals Rebel Heart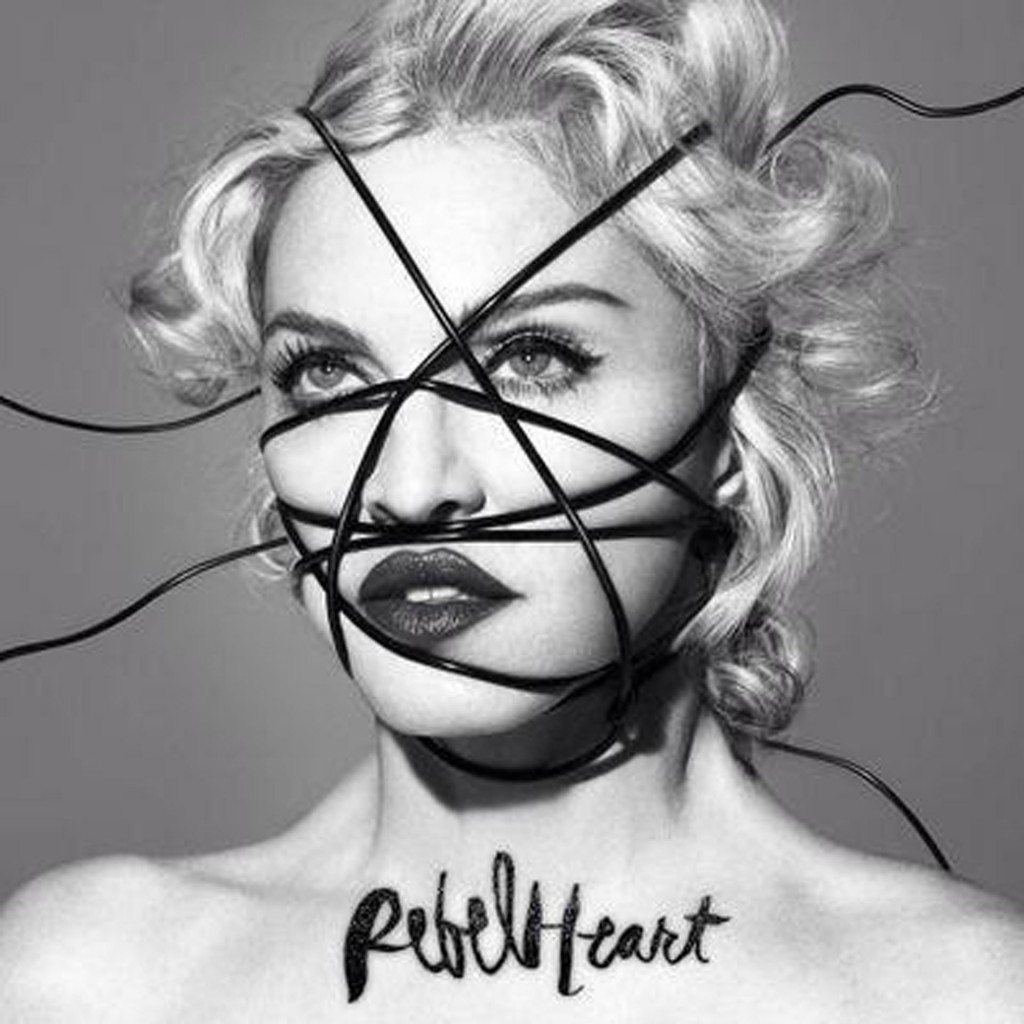 Madonna released her first album thirty two years ago, today we get to listen to her thirteenth studio album 'Rebel Heart'.
It's an album that's had a long birth. Late last year demo version of many of the album's tracks leaked online. In response Madonna quickly completed six tracks and released them as an "early Christmas present" for fans.
Following Madonna's appearance at the Grammy Awards another three songs came out, and now the remaining songs have been let out of captivity – completing the album.
Many would ask can Madonna deliver yet another hit album? Ultimately does it really matter though.
The singer has received her most critical acclaim when she's written her most personal songs. 'Like a Prayer', which Madonna released in 1989 is recognised as a high point, as is 'Ray of Light' which came out in 1998.
After scoring a stack of hits with 'Confessions on a Dance Floor' in 2005, Madonna has released the less successful albums 'Hard Candy' and 'MDNA' and there's pressure on to deliver another smash album.
Yet Madonna's 'less successful' albums often end up being fan favourites, and critics have been known to revise their opinions a few years after albums come out. 'Music', 'Hard Candy' and 'MDNA' all have their fans.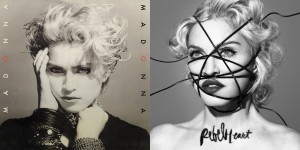 The cover for the album  is reminiscent of the singer's 1983 debut. It's a black and white image, the singer sports similar hair, and instead of sporting a stack of rubber bangles, Madonna appears with rubber wire wrapped around her face.
One thing that has been consistent through Madonna's career though is collaboration.
Part of the singer success has been through her ability to tap into cultural trends and work with some of the best writers and producers in the world.
Madonna's early records featured contributions from Reggie Lucas, Stephen Bray and Jellybean, before she moved on to Nile Rodgers, Patrick Leonard and Shep Pettibone.
Later records saw collaborations with Dallas Austin, Babyface, William Orbit, Mirwais, Nellie Hooper and Stuart Price.
Most recently Timbaland, The Neptunes, Justin Timberlake, Benny Benassi and Martin Solveig have been Madonna's collaborators.
In an pre-recorded interview released to media Madonna shared that collaboration was the starting point for this new record, but the central goal was on good songwriting.
"My original intention was that I was just going to sit down with various song writers and just write songs, just.. that was my goal. I'm just going to write songs and I want all the songs I write to be something that could just sit and strum on a guitar and sing from top to bottom without any other people involved, and I could do it as simple as that." Madonna said.
"If I couldn't do that with a song – even 'Bitch, I'm Madonna' I can sing on acoustic guitar, so that was the goal."
Madonna explained that the project built up steam as she began to work with more and more people.
"Then after I wrote a lot of the songs, I chose my favourites and started going out to various producers to work with. Sometimes I 'd get together with those producers, like Diplo for instance,  and they would have ideas for songs that I hadn't written already. That is how 'Bitch I'm Madonna' came about.
"So it started off just as an exercise/experiment in songwriting with lots of people, see what came out of it, then I start to pick up steam with sounds, and producers, then I started to go in directions, but then I was still in songwriting mode and then I'd bring some of the songwriters that I had  in the beginning in with some of the producers.
"I really loved working with Toby Gad and MoZella as songwriters, so I ended up bring them into the mix once I started working with various producers, so like I said, it was like a train, people kept getting on and getting off, right until the end.
At the end of her journey in creating the album Madonna had involved producer Diplo, electronic artist Avicci, Kanye West, DJ Dahi, hip-hop beat maker S1, British singer MNEK, Ariel Rechtshaid, UK producer Sophie, songwriters Toby Gad, Jason Evigan, Rami Yacoub, Sean Douglas, Savan Kotecha and E Kidd Bogart and heaps of others.
Between them Madonna's collaborators have created hits for everyone from Demi Lovato and The Black Eyed Peas, to Britney Spears, One Direction, Drake, Jay Z and Beyonce.
Time will tell if Madonna's decision to collaborate so widely will bring commercial and creative success, or be an example of too many DJs being the decks.
Track by Track
Living for Love
The first single and opening track is cracker. A great sing-a-long chorus, gospel backing vocals and a solid dance beat. This is a song written for that moment when you find freedom on a the dance floor. A bunch of great remixes have been released too. This track was produced by Diplo.
Devil Pray
This tracks reminiscent of a style song from the 60's, you can imagine Cher or Nancy Sinatra singing it. Madonna sings "We could do drugs, we could smoke weed and we can drink Whisky, yeah we can get high and we can get stoned, and we can sniff glue and we could E and we could do acid." before suggesting that we should really face up to our demons. A deep blurry backing vocals questions 'Who will save our souls?".
Filled with religious references this reminds us of so many previous Madonna songs mentioning Mother Mary, God and the Devil. Avicci, Blood Diamonds, Carl Falk (the guy behind Nicki Minaj's hits) and Dahi (he produced Drake and Kedrick Lammar) are all given production credits.
Ghost Town
This is a sweet ballad, instantly catchy and memorable. This one's produced by Billboard – who previously created hits for Kesha, Britney Spears and Ellie Goulding.
Unapologetic Bitch
Is this Madonna's first reggae tune? A great balance of hip-hop and reggae. This where Diplos' influence can clearly be heard.  Madonna sings "I might sound like an apologetic bitch, but sometimes I got to call it like it is." Really hoping this track get's some really dub heavy remixes!
Ilumanti
Name checking Jay Z, Beyonce, Nicki, the Pope, Kanye and Queen Elizabeth and a stack of others. This is a clever combination of a very RnB sound teamed with a definite pop influence. Kanye West is listed as one of the producers of this track.
Bitch I'm Madonna
Teaming up with Nicki Minaj for the second time, this is a total party track. A cry of "Let's Blow Up This House Tonight!" prompts a bass heavy bump n grind sound. The vocals are sharp and sugar sweet with a wild cry in the background. Madonna says she can play this as an acoustic guitar tune – we'd like to see that.
Hold Tight
A light Caribbean influence in this tune, the synths sound a little like steel drums. A mid paced tune that is quite pleasant but maybe the first filler track of the album.
Joan of Arc
Woah, suddenly a folky ballad appears and Madonna sings about the media being mean to her. This is quite cringe worthy, "Words are like weapons"  – yes we know Cher told us in 'Turn Back Time'. So Madonna's not Joan of Arc and she's crying her eyes out. This is a tune you're going to be skipping past.
Iconic
Chance the Rapper and Mike Tyson arrive, this one builds up nicely by the time chorus arrives you're really anticipating it to go crazy, but the track goes the other way, all dubstepish and moody. Then it builds up again… this is the musical equivalent of edging. This is a cool song.
Heartbreak City
Opening up with "Cut down the middle, fucked me up a little." Madonna chastises someone who just wanted a bit of fame and fortune. A massive heartbreak song sung by a defiant survivor. Gorgeous backing vocals.
Body Shop
Indian beats and Madonna's voice is almost unrecognisable at the beginning. Tapping into a world music vibe while comparing a relationship to getting the car serviced. This is an interesting tune.
Holy Water
Madonna sings "Bitch get off my pole" and we're definitely  back on the dance floor, probably in a strip club or possibly in the bedroom. Madonna can still shock us. This track is filled with sounds of lovemaking and Madonna asking "if it takes like holy water?" The greatest moment of this song comes in the second half when Madonna suddenly sings the rap from 'Vogue'.
Inside Out
Yawn, this one's boring. Madonna sings about loving someone from the inside out over some quite '80s sounding synths.
Wash All Over Me
A huge ballad with an intriguing electronic background. Like many tracks this one references previous hit songs as Madonna calls for rain to wash all of her. Miley Cyrus has a co-writing credit on this track.This is the last track on the standard version of the album.
Best Night
Madonna invites a lover to have 'the best night of their life'. This song has a great eastern sound, sultry and hot.
Vedi, Vidi, Vici
Madonna teams up with Nas and delivers her autobiography. Madonna's always had a really strong personal narrative, so it's nice to hear it in added to a song. The chorus is surprisingly country sounding with acoustic guitars. This is a song fans will love just for all the touch points of past songs. Love the line "When I struck a pose the gay boys lost their minds". Yes we did.
S.E.X
It's a little reminiscent of the Art of Noise's 'Art of Love', then Madonna starts singing about sex again.
Messiah
This is a massive ballad, beautiful piano and a symphony orchestra. Madonna sings about lighting candles in the dark and casting spells to make someone love her. This builds up and the voal gets more expressive. This is a going to be an epic dramatic moment if this song makes it to her live show.
Rebel Heart
The title track is a great pop tune and it's odd that it's only on the extended version. Madonna sings about finding her place in the world. This is just filled with sunshine and ambition. "I've spent some time as a narcissist" is a great declaration, or is that a confession.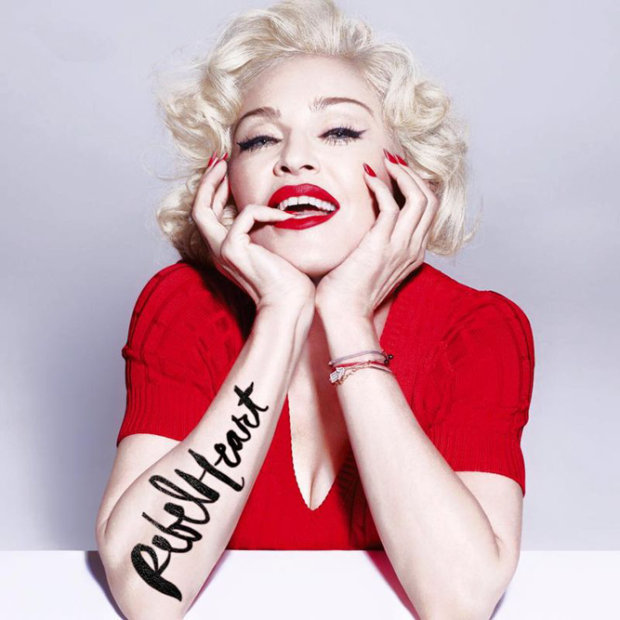 That's all  that's been released so far, an epic 15 tunes. There's a bonus track called 'Auto-Tune Baby' on some European releases, and an extra deluxe version is also due to have four more songs. 'Beautiful Skies', 'Borrowed Time', 'Addicted' and 'Graffiti Heart'
Madonna's "rebel Heart' is available now through iTunes and old fashioned record shops.