A Magical Evening at Zatanna's 99% Improv, Magic & Fun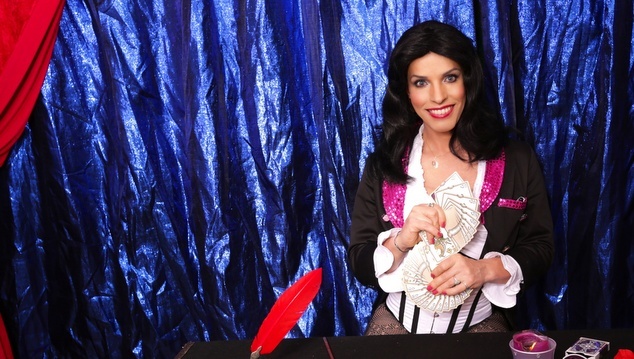 99% Improv, Magic & Fun | Rigby's Bar & Bistro | Until Jan 28 | ★ ★ ★
99% Improv, Magic and Fun is my first show of Perth Fringe, and it did not disappoint. Set upstairs in Rigby's Bar, this quant improv magic show is sure way to start off your Fringe festivities.
Arriving on stage in a floral night gown, Zatanna, Queen of Illusion got straight into it, pleasing the crowd with a mix of old school magic tricks, mind games, and wit, delivered with her own personal touch in soft French accent.

This show is very much an interactive performance, with nearly every member of the audience getting on stage at some point – including myself who had to tear up a copy of OUTinPerth for one of her tricks (with a tear in my eye of course!)
I have always had an admiration for improv artists. It takes away a certain safety net to move away from the script, and at the beginning of the show I felt Zatanna to be mildly hesitant on stage and at times difficult to hear. However once she felt the audience were settled and enjoying the show, she grew in confidence and sprinkled her act with off the cuff humour.
For any families heading to Fringe, this show is family friendly and I enjoyed watching some of the younger audience members get enthralled by Zatanna as she performed a series of illusions – using only a yellow rope!
As much as I'd like to, I shall resist from giving too much details of Zatanna's tricks away, but I will say that the show ended with her doing a rather impressive trick that combined illusion with mindreading, that drew audible 'oohs' and 'aahs' from a pleased crowd.
In many ways, Zatanna's show embodies the spirit of Fringe – a locally based, unique artist showcasing her talents in a mixed medium performance. So if you're sitting at home with the Fringe Guide, circling all those potential shows that you may or may not go to, why not head down to Rigby's Bar and let Perth's most unique female magician transform your entry ticket into an evening of magic, illusion, and humour.
Conor Duggan