Making a Comeback: Twin Peaks, Sex And The City & Harry Potter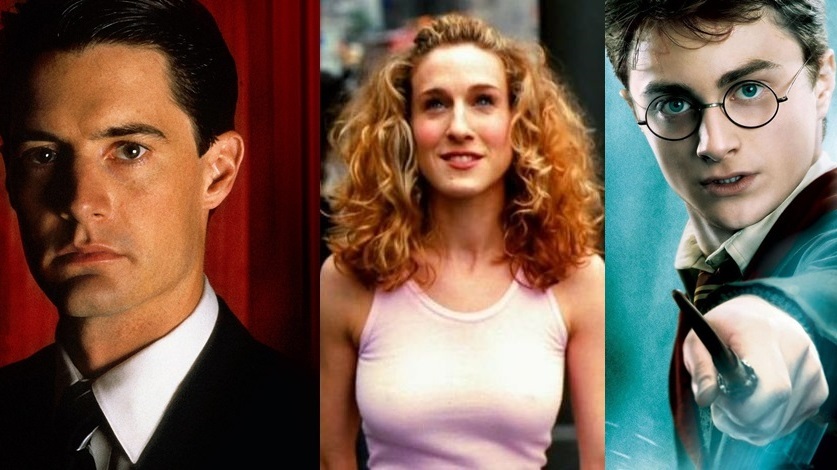 Good news for those who love surreal murder mysteries, boy wizards and Manolo Blahniks. Several popular cultural phenomenons are allegedly poised to make comebacks.
First off the bat is iconic 1990s murder mystery thriller/art piece 'Twin Peaks', David Lynch and Mark Frost's tale of murdered schoolgirl Laura Palmer and the small, eery town rattled by her death.
The series gained popularity and prompted millions to ask 'Who killed Laura Palmer?' but only ran for two seasons. In one of its final scenes, Laura Palmer says "See you in 25 years", a prophecy that may soon be fulfilled. Over the weekend both David Lynch and Mark Frost hinted at the return of 'Twin Peaks' by posting a quotation from the show:

Now, the hints have been confirmed with this trailer:
'Twin Peaks' will continue in 2016. Here are some predictions for what Showtime's limited series may include:
Agent Dale Cooper returns, embittered by divorce, after spending years undercover as a doctor in New York.
Instead of running the lumber mill, Josie Packard now grows carbon offset forests.
Audrey Horne has become the town's resident cougar and Zumba instructor.
In a piece of 'Roseanne'-inspired casting, the role of Donna Hayward will be played by both Lara Flynn-Boyle and Moira Kelly.
Meanwhile in Manhattan, the tales of a mysteriously wealthy sex columnist and her impractical footwear may be making yet another foray onto the big screen.
Sarah Jessica Parker, also known as Carrie Bradshaw has hinted at the possibility of a third movie in some very cryptic tweets with her co-star Kristin Davis (Charlotte York Goldenblatt):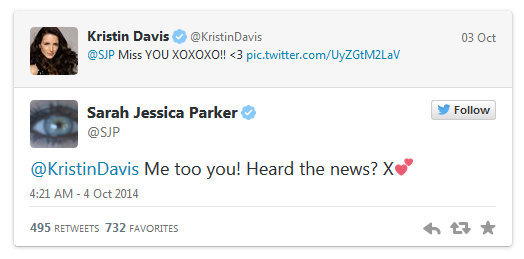 If a third 'Sex and the City' movie is in the works, here's what we think could go down:
Carrie releases her own line of orthopaedic shoes after her doctor says her feet are irreparably damaged by years of impractical footwear.
Miranda does a TEDx Talk about balancing a career and motherhood, and working in a male-dominated field.
Samantha becomes the first sexual EGOT (someone who has slept with an Emmy winner, a Grammy winner, an Oscar winner and a Tony winner).
After the body of a prominent New York fashion designer is found on the shores of the Hudson River wrapped in chiffon, the girls must work together to find the killer. Charlotte's ex-husband Trey returns to investigate the murder (I just really want a 'Twin Peaks'/'Sex and the City' crossover).
Meanwhile in the Wizarding World, J.K. Rowling has been putting out hints like they're owl droppings. The word mogul sent fans into an anagram deciphering frenzy after she released this cryptic tweet:
"Cry, foe! Run amok! Fa awry! My wand wont tolerate this nonsense."
The Internet's keenest nerds came up with this as a possible solution: "Harry Returns! Wont say any details now! A week off! No comment."
However, Rowling declared the winner after letting her Twitter followers know that the hidden message concerned Newt Scamander. "Newt Scamander only meant to stay in New York for a few hours." was the telling line.
For those who've been slack in their wizarding studies, Newt Scamander was the author of Hogwarts textbook 'Fantastic Beasts and Where to Find Them'. Could this be a prequel? A spinoff? An epilogue?
Whatever it is, here are some suggestions for a potential Potter reboot:
A television series starring Newt Scamander as a nature documentarian introducing us to rare magical creatures.
Ron Weasley appears nude in a calendar devoted to dishy redheads.
Hermione delivers a TEDx talk about about overcoming mugglephobia and working as an auror in a male-dominated industry.
After the body of a Hogwarts professor is found in the Forbidden Forrest wrapped in an invisibility cloak, Harry, Ron and Hermione travel to New York to find famed wizard investigator Agent Dale Trey Cooper MacDougal who is living as a muggle doctor in order to find the final horcux, which is a pair of Prada stilettos on the feet of an oblivious Carrie Bradshaw as she renews her vows to Mr. Big.
Sophie Joske
---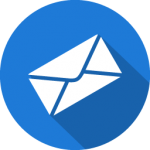 Subscribe to OUTinPerth's E-Newsletter and keep up to date with the latest news. Sign up now.