Marriage Alliance makes bizarre claim about Norwegian custody case
The Marriage Alliance, one of Australia's leading lobby groups against marriage equality, has posted a bizarre claim to their social media channel alleging that a Norwegian child protection case is a consequence of allowing same sex marriages.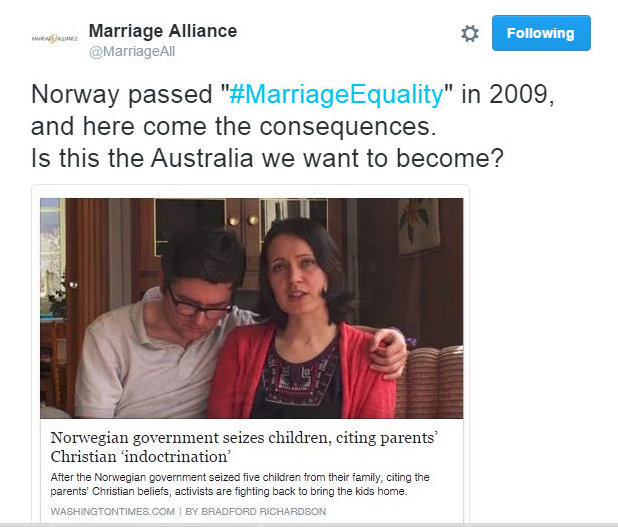 On their Twitter channel the Marriage Alliance posted an image of a story in the conservative newspaper the Washington Times.
The story, which has appeared in many religious based publications, claims that the children of a Norwegian-Romanian family were removed from their parents care because of the parent's Christian beliefs.
Alongside the image of the story the Marriage Alliance posted the message, "Norway passed marriage equality in 2009, and here are the consequences." The group then asked, "Is this the Australia we want to become?".
The story in The Washington Times, a conservative newspaper founded by religious groups, claims that the Norwegian department of child services, known as Barnevernet, removed five children from the care of their parents Marius and Ruth Bodnariu.
The Washington Times article claims that the children were removed because of their parent's Christian beliefs. There has also been some suggestion that the children were removed because of physical abuse as the parents believed in corporal punishment.
In an interview with the BBC, Ruth Bodnariu admitted that the parents did spank their children, something which is illegal under Norwegian law.
The Washington Times story linked to a video from the Home School Legal Defense Association, a Christian association that describes itself as a voice to defend parental rights. The group is opposed to marriage equality as they believe it violates parents rights.
As Norwegian law requires the government to respect the privacy of both the parents and the children, no official comment has ever been made by Barnevernet.
Religious groups have protested the move claiming that the Marius and Ruth Bodnariu were being persecuted for their Pentecostal faith. However the Leader Council of the Pentecostal Movement in Norway released a statement earlier this year stating that they did not believe Norwegians were being discriminated or persecuted.
The Marriage Alliance has not elaborated on how the Scandinavian countries passing of marriage equality seven years ago has lead to the removal of the families children, or how allowing marriage equality in Australia would trigger a change in how we allow parents to discipline their children.
Recently the group highlighted that they were a secular organisation and were not a religious lobby group.
The Marriage Alliance was nominated for a GLORIA award for making offensive and ridiculous statements about LGBTI people, but was nominated in the Religious category. The group argued that this was inappropriate as they are not a religious group.
The Marriage Alliance was contacted for comment.