Marriage equality activists search for Malcolm Turnbull's backbone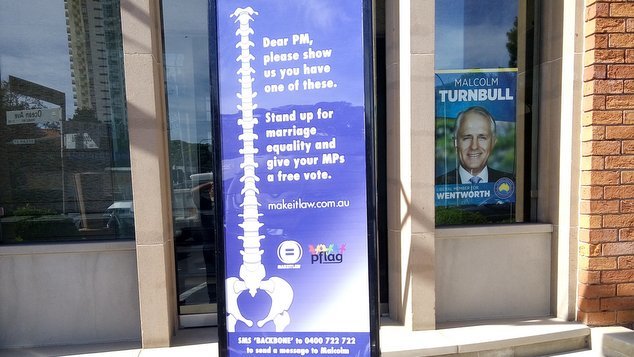 Marriage equality activists have continued their campaign to help the Prime Minister "find his backbone" with a visit to his electoral office today.
The campaign, that is led by the Parents and Friends of Lesbians and Gays (PFLAG), launched six mobile billboards that are travelling Sydney's streets urging people to send the text message "backbone" to a number that will in turn trigger an email to Prime Minister Turnbull.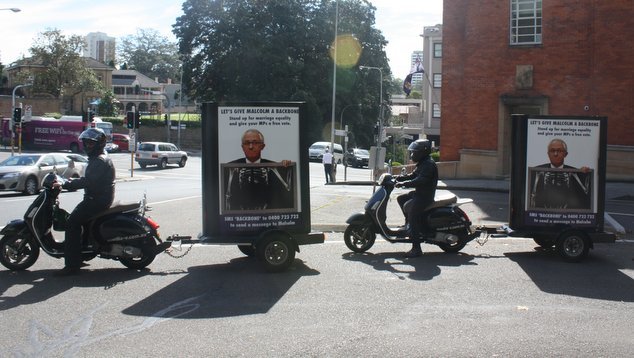 The six mobile billboards, four scooters and two pedestrian, are focusing on the Prime Minister's own electorate of Wentworth as well as the Sydney CBD and key train stations.
The initiative is designed to show Mr Turnbull his constituents want him to lead on marriage equality by allowing a free vote so the reform can pass.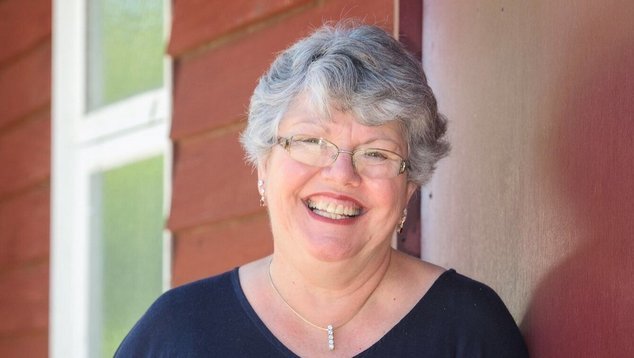 Shelley Argent, national spokesperson for PFLAG, said the Prime Minister needed to do much more than voice his personal support, he needs to show leadership.
"It's not enough for Malcolm Turnbull to support marriage equality, he has to grow a backbone and lead on it as well."
"Our message to Mr Turnbull is to act now before his time runs out and he is left looking back at what could have been."
Argent said the parents and families of LGBT Australians were tired of their children being treated as second-class citizens.
"As parents we cannot stand by while our children are treated unfairly." Argent said.
"Many parents who hear about the possibility of war every night on the news, including myself, are concerned that if the worst happens our sons and daughters be will expected to fight for a country that insists on seeing them as second class citizens."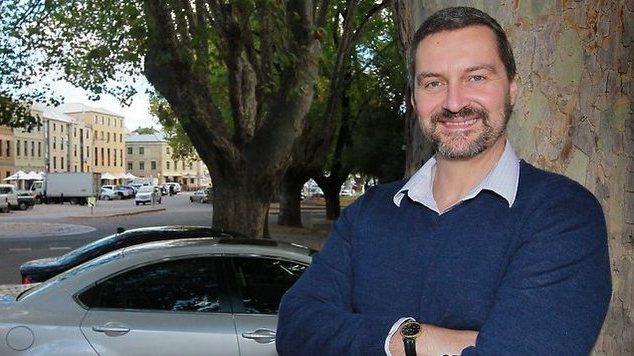 Long-time marriage equality advocate, Rodney Croome, welcomed the new action saying it was a good reminder to the government that the issue is not going to go away.
"I applaud PFLAG for making sure Mr Turnbull knows the issue of marriage equality will not go away until he allows a free vote so the reform can pass."
"PFLAG's action will draw on the strong support we know exists in the general community to show Mr Turnbull marriage equality really matters to his electors and to majority of Australians."
"When politicians aren't listening it's time to take to the streets."
The six mobile billboards will carry the "get a backbone" message across Sydney for the next five days.
They are carrying a message urging Sydney-siders to send a text message to 0400 722 722 that will trigger an email to Mr Turnbull's office that says;
Dear Malcolm,
You were elected to represent the people of Australia. Every single poll shows the majority of Australians, including me, support marriage equality. I am asking you to show leadership and stand up for Marriage Equality by allowing a free vote so it can finally happen. Mr. Turnbull you are the leader of the Government, please lead on this important issue.
Those who send a text message will be asked to take further action by sending an email to other Government members through the www.makeitlaw.com.au website.
The mobile billboards will travel through Mr Turnbull's electorate, stopping outside his electorate office and key railway stations, as well as travelling to key points in the Sydney CBD. Pedestrian billboards will distribute 6000 flyers to passers-by.
Already, 5000 emails have been sent to Malcolm Turnbull asking him to get a backbone on marriage equality via PFLAG's www.givemalcolmabackbone.com.au website.
OIP Staff