Marta Dusseldorp on playing Janet King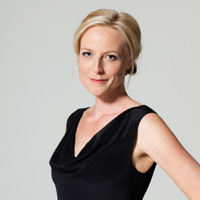 Strong female characters are still a rarity in film and television, but the ABC series Crownies has introduced us to a cast of intriguing women set in the cut-throat world of the Crown Prosecutors Office.
Leading the team is Senior Crown Prosecutor Janet King played by the engaging Marta Dusseldorp.
Dusseldorp is one of Australia's most acclaimed actors but her forays into film and television have been few.
Straight out of the National Institute of Dramatic Art she joined the cast of Bruce Beresford's film Paradise Road, and has had a leading role in the Blackjack TV movies alongside Colin Friels. On the stage Dusseldorp has been capturing all the leading roles and a swag of awards over the last decade.
In Crownies, Dusseldorp's character Janet King is professional, detached, incredibly intelligent and ambitious. As the series has progressed we've found out more and more about Janet.
First we found out that she was receiving IVF treatment and then it was casually revealed that this amazing character is also gay, happily living with her long term partner.
OUTinPerth spoke to Marta Dusseldorp just after filming on the first series wrapped.
Accurately portraying the world of the law courts, the Crown Prosecutors and the legal process is a huge challenge for the program. To prepare for the role before filming commenced, Dusseldorp shadowed a senior Crown Prosecutor, met with the then Director of Public Prosecutions and read up on a heap of different legal cases.
So far the feedback from lawyers who've seen the show has been positive, "In fact anytime I meet anyone from the DPP they laugh and say, I remember the time," reveals Dusseldorp, "and then they all say it's actually much more, what's the word, dirtier at DPP than we make it out to be, you know, messier. Then they smile wryly. It's a pretty horrific world to sit in day in and day out, listening to the things people do to each other."
While the response from lawyers has been positive, Dusseldorp reveals that she's yet to have any feedback from lesbians.
"I think people are very happy with it. That's one of the reactions I've heard on some of the internet sites that I loathe to look at, but sometimes I can't help myself. I think it's something that should be done more. I've been watching The L Word, I'm a bit of a fan of that, and I'm sold on that this needs to be a much more prevalent."
For Dusseldorp the opportunity to play such a complex character is a rare opportunity.
"I just love Janet, I thought she was one of the most all rounded women that I've ever gotten to play in my career, she's complicated, competent, risky, vicious, loving.
'As I get older, I need breadth. I need her [the character being played] not to be a victim, and if she is, there has to be a really good reason for it, the writing has to have integrity to it."
While filming on the series has just finished Dusseldorp was keeping quiet about what the outcome for Janet is by the end of the series revealing that the writers kept a lot of the story details from the actors so that they remain quite 'present' during the filming.
"We just shot Episode 22, the last one, and I wasn't quite ready for that, but it's really wonderful."
Catch Janet King in Crownies on ABCTV on Thursday nights at 8:30pm.
Graeme Watson