Martha Wash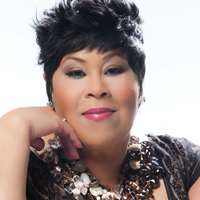 Martha Wash, you might not know her name, but you know the sound of her mighty voice.
From powerful backing vocals for '70s gay icon Sylvester, to being half of the Grammy winning chart topping Weather Girls who proclaimed It's Raining Men, Hallelujah! In the '90s she was the voice, but not the face, of Black Box and C+C Music Factory before having her own string of club hits like the inspirational Carry On.
Now Martha's back with a brand new single and her newly penned memoirs that look back over a remarkable career.
Speaking to Martha from her home in New York City her voice is distinctive, she thinks clearly and emphasises key words to make her point. She's serious, not a lady you would mince words with, but then moments later she'll break out in an enormous contagious laugh. Martha Wash is full of life and wisdom.
Writing her memoirs has given Wash a chance to reflect on her journey so far, I asked her what she learned through the writing process,
'That I've been around here for a while, but hopefully that I've gotten better with age, a little bit more wisdom I would say. As you chronologically progress, you start going through a whole lot of different situations and as things happen you say 'OK, I've been through this before, well let me see what I'm going to do, or not do.'
The way Wash pronounces chron-on-logic-ally, like it's four separate words, and how she leaves a generous spaces between each words in the phrase 'going to do, or not do', gives her voice sass and a double dose of authenticity.
Wash started out as a backing singer for gay icon Sylvester, a prominent cross dressing figure in the heyday of '70s disco. Sylvester scored big hits with You Make Me Feel Mighty Real and Do You Wanna Funk? After providing backing vocals for Sylvester, Wash and fellow backing singer Izora Rhodes formed their own duo Two Tons of Fun, who later renamed themselves as The Weather Girls.
Recording their first album as Two Tons of Fun is a time Wash nominates as a career highlight, alongside getting a Grammy nomination for It's Raining Men and later singing at The White House for President Clinton. The success of It's Raining Men is not something that Wash ever expected,
'When we initially recorded the song we did it in like ninety minutes and just walked out of the studio and said [to the producer], "Ok Paul, see you later." That's really how we left it. Until months later when we started hearing it in clubs, and Paul was taking the song around to different clubs and asking the DJs to play it. So it became a big hit in the clubs long before radio even picked up on it.'
Next year the song will celebrate its 30th Anniversary and it's constantly being rejuvenated having also been a huge hit for Spice Girl Geri Halliwell. Wash has recorded a version of the song with RuPaul and most recently performed alongside the cast of the musical Priscilla, Queen of the Desert at the Tony awards.
Throughout her career Wash seems to have had a knack for finding songs that lift the spirit, something she links to the gospel songs of her childhood.
'I started singing when I was about three years old. My godmother was the one who told my mother, that I was singing in the back seat of her car, and my mother always loved to sing. She sang in the church choir. Listening to old gospel records on the record player on the weekends while my mother's cleaning the house, she's singing and I'm singing. You know listening to gospel music that's really how it started for me.
'You want to be inspired, at least I do, a lot of times. To keep a positive focus in your life, and for people it may be another genre of music and that's fine but for me it's always been gospel music, but I also try to record songs that people can take something away from, to uplift and inspire and help them make it from one day to the next.'
Martha's latest recording I Got You is not one of the big club anthems that filled the dance floors in the '90s but a soaring and uplifting ballad.
'My manager heard it and he gave me a copy and said, you know "Listen to it" and when I heard it initially I said "I'm not sure, I don't know if I want to do it." and he said, "No, keep listening to the song", he said "this is the song for you, it has everything in there that you try to capture about people."
'I kept listening and listening and just fell in love with the song because it's very uplifting and in these particular times that we're living in everybody's going through something. Some kind of situation and a lot of time they may not talk about it and sometimes you meet a total stranger and sometimes you'll tell your problems to a total stranger as opposed to a friend or a family member but in a sense we are still out brothers and sisters keepers. So if we kind of pay attention to people and listen to people and empathise with people and what they're going through, sometimes you don't necessarily have to say a word.'
The release is accompanied by a stunning black and white video featuring Wash on a giant auditorium stage backed by a full gospel choir. There was a time however that Wash was told that her fuller figure made her an unmarketable commodity. While her distinctive voice can be heard on major hits for Black Box and C+C Music Factory she was absent from the videos to promote the songs. Wash successfully sued for credit and royalties on many of the songs she had provided vocals for, a move that gained her recognition and her own recording contract.
Twenty years later, Wash feels that the music industry is slowly improving, citing the success of British artist Adele as an example.
'I think it has gotten better, and the more I talk to interviewers about it the more I realise myself that when we were singing background for Sylvester, at that time you did not see large background singers or large artist out there in the front. You did not see that. So over the last, I'll say maybe 15 years, it's gotten better.
'Adele. She's a prime example, she's a great artist, and she's getting her due, which I think is great, and mine comes in time as well.
Don't give up, whatever it is, just because the media is focused so much on "the look", "the sound", doesn't mean that you can't be successful as well.
A constant favourite in the gay scene Wash has travelled the world, including a trip to Perth in the late '90's. She's performed at many different Pride festivals. When asked how one city compares to another Wash breaks out in an enormous laugh,
'I'm so used to people saying "Well we would love you to come and perform for us, but we have to talk to our committee, and we'll get back to you in about week" and I say, "OK, fine." It's always, first the committee.
'But I have to say it seems like there are more cities, that the cities themselves are getting involved in the gay pride organisations. Because, and as it should be, the gay community is part of the city as well.'
There are constant themes throughout Wash's work she sings songs about hope, community and resilience. They're qualities that are found not just in her songs, but in her attitude to life as well. With a new album on the horizon and her memoirs on the way, Martha Wash is not leaving the dance floor soon.
Graeme Watson
***