Melbourne Ska Orchestra release new tune and announce national tour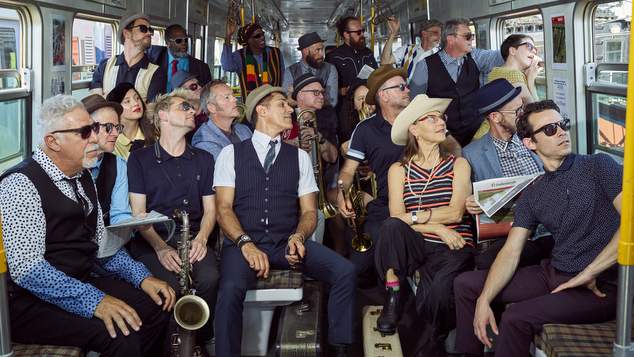 Melbourne Ska Orchestra has today unveiled their new single Good Days Bad Days, lifted from their most recent album One Year Of Ska.
The box set album won them the 2019 ARIA Award for Best World Music Album. To celebrate, the epic 25 piece band have announced a huge national tour, which will see them hitting up metropolitan and regional cities across the country throughout the early months of 2020.
The group will be kicking things off at the Mullumbimby Civic Hall on February 28, then moving through Brisbane, Maroochydore, Newcastle, Sydney, Wollongong and Canberra, before heading west for shows in Fremantle and Pinjarra. They'll then wrap things up with a massive hometown show at Forum Melbourne on 1st May.
Audiences have been blown away by up to 25 musicians performing at the same time, bringing a joyous, energetic vibe.
Multi-instrumentalist and band leader Nicky Bomba says the band is somewhat similar to a sporting team.
"With so many band members, we're a bit like a soccer team! Our live shows are a community experience. It's imperative for us to make a solid unifying connection with our audience. We hold the live performance in high esteem, as it's an ancient ritual where humans come together celebrating life through the wonder of music. It's a bit of a spectacle to behold."
The album One Year Of Ska was an innovative undertaking for the seasoned group. They set themselves the mammoth task of recording one new song per week for an entire year.
The band took on the challenge firstly as a way of embracing the idea of creating content for their fans, and also to mimic the old-school Jamaican practice of releasing new songs on a weekly basis to encourage punters to come to their weekly dancehall gigs.
It was an epic task for the Melbourne Ska Orchestra, to say the least, as Nicky Bomba reflects, "We had to move our studio from country Victoria to a studio in Collingwood to facilitate the whole process. It felt like a NASA mission, working around the clock to create, arrange, record, mix and master in time for each weekly launch, which would happen every Friday morning at 9am."
The new single Good Days Bad Days is just one of the tracks borne of this intense year of work.
Bomba says the tune is one that has universal appeal, as we all have our ups and downs.
"The Good Days Bad Days sentiment is universal and it covers all walks of life. The second verse is particularly close to home, as it relates to putting our own gigs on – it's always a risk, and things can turn on a dime. Life is full of the extremes of the pendulum swing. Finding the balance is the key, eh!"
Tickets to the Good Days Bad Days tour will go on sale at 9am local tomorrow, excluding Anita's Theatre and Forum Melbourne which are on sale Friday, tickets from www.melbourneskaorchestra.com
MELBOURNE SKA ORCHESTRA NATIONAL TOUR
Tickets from www.melbourneskaorchestra.com
FRI FEB 28 MULLUMBIMBY CIVIC HALL NSW | 18+
SAT FEB 29 THE TRIFFID, BRISBANE QLD | 18+
SUN MAR 1 SOLBAR, MAROOCHYDORE QLD | 18+
THURS MAR 12 CAMBRIDGE HOTEL, NEWCASTLE NSW | 18+
FRI MAR 13 MANNING BAR, SYDNEY NSW| 18+
SAT MAR 14 ANITA'S THEATRE, WOLLONGONG NSW | AA (U18 ACCOMPANIED BY LEGAL GUARDIAN)
SUN MAR 15 UC REFACTORY, CANBERRA ACT | 18+
FRI APR 17 FREO SOCIAL, FREMANTLE WA | 18+
SAT APR 18 FAIRBRIDGE FESTIVAL, PINJARRA WA | 18+
FRI MAY 1 THE FORUM, MELBOURNE VIC | 18+
Source: Media Release
---