Memory Bank: Minge's M.O.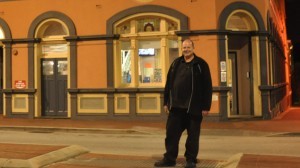 Back in the 1984 Robert Fletcher was volunteering as an announcer at UWA's student radio station 6UVS (now RTRFM 92.1). One day while presenting the lunchtime request program he got a call from the Underground Nightclub asking him he'd come and DJ in their club on Friday nights, soon afterwards he was asked to play on Tuesday nights as well.
'It's was called Minge's M.O. – which had two meanings, mo as in a moustache for men, and Men Only. It was basically an alternative to the Connie's men's only night…It used to get a quite a lot of people, men only of course.
'Inside it was very intimate, there was a lot of snogging going on in the corners of the club, there was also sex happening in the toilets. There were lots of nooks and crannies and lots of stairwells and under stairwells, lots of couches and places you could hide away from people. It was like a nightclub in a house.
'They had speakers all around the place so wherever you were you could still hear the music. The dance floor itself was pretty small. A tiny little dance floor that was sort of tucked away in the corner of the club, but it was packed out, everyone went there to dance.
Robert remembers what tunes were big on the dance floor back in the mid '80s,'Evelyn Thomas's High Energy for sure, Jocelyn Brown's Somebody Else's Guy, pretty much any sort of European Hi-NRG, Hazel Dean which was the start of that Stock, Aitken, Waterman movement.
'As I was originally hired to do the Friday nights, I would sometimes slip in the odd sort of alternative track like Malcolm McLaren's Madam Butterfly, which was huge, and I'm surprised such a slow song was such a dance floor filler. Lots of New Order and even Cabaret Voltaire I'd get away with sometimes. But it was mainly the campy classics and all the '70s stuff too like Gloria Gaynor.
'As a DJ you'd get them off the dance floor from time to time so they'd go by drinks. I started to play daggy stuff like Tom Jones, so they'd get off the dance floor…but they'd just love that and dance even more. Usually if you played something new it got people off, but usually within a few months that new track would be the big track.
Today the building that was the Underground nightclub on Newcastle Street is home to the similarly named Underground Backpackers.