Review | Michael Griffiths' Kylie cabaret was love at first sight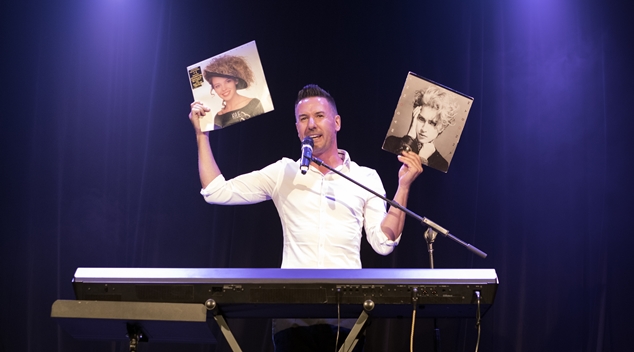 Michael Griffiths: Songs By Kylie | De Parel | til 4th Feb | ★ ★ ★ ★ ★ 
I loved everything about this show.
From the very beginning, as Michael entered the stage throwing glitter over himself, to the very end when the entire audience got up to dance without hesitation, this show is pure entertainment. He calls himself Kylie, in first person, and yet he makes no effort to impersonate her. He masterfully weaves stories of Kylie's career with her songs, giving a new depth to the music. He tells familiar parts of our quintessentially Australian story without it feeling tired or old.
I'd also like to give kudos to Jason, the ever-so accepting and amenable audience member who was taken to the stage to play Jason Donovan to Michael's Kylie. Once Jason realised he was definitely being asked to sing onstage he mouthed the word "shit" getting a big laugh from the audience. He took the whole event in his stride, singing along and asking for a dance with Michael. He received many cheers for his efforts.
Michael brought us from the Stock Aitken Waterman years to the time of Hutchence influence by bringing in the riff from INXS's Need You Tonight and laying his own version of the vocals to What Do I Have To Do over the top of it. The blend was incredibly well done. Much like Kylie's career, starting off with simple pop and developing over time with layers of complexity, so did Michael's show, all part of his genius. The songs familiar, but the arrangements personalised to suit Michael's voice and style. You'll want to hear Set Me Free with some Spanish guitar.
As the story continues to progress, Michael brings in the addition of dramatic stage lighting and like everything else about this show, it's very well done. Your Disco Needs You sees the addition of two very large disco balls on either side of the venue added to the show. This leads into a captivating Kylie mega-mix.
He's also funny. Michael is adept at flawlessly blending his well developed show with whatever is happening in the moment, be it noises from other venues close by to accidentally hitting the wrong notes on the keyboard. He's an all-rounder singer, comedian, story-teller and just very likeable.
Michael Griffiths: Songs By Kylie is at the De Parel Speigeltent in the Pleasure Gardens until Monday 4th February. For tickets and info head to fringeworld.com.au
Halimah Halse