Mini Cooper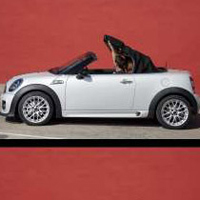 When my sister got a Mini Cooper, she said it revolutionised inner city living. Gone were the days of guzzling the fuel and freaking out about driving a car as a big as a steam liner down the tight city streets. Parking became a breeze too.
Yes, like Madonna, she was feeling super-duper in her Mini Cooper.
Now, my sister is set to squeal all over again. Why? Mini are getting their top off for summer. Well, not literally, and thankfully neither is my sister. But convertibles are the new black and with the Mini Roadster hitting the streets, rest assured the wind blowing through your hair will never look so cool.
One thing is certain when powering this puppy through the streets: it packs the punch of full blooded go-kart while kicking it out in super style. Put simply, this baby can move.
It's aerodynamic with a low centre of gravity and a bespoke chassis set-up.
Acronym-wise, it's got them all. EPS (Electric Power Steering)? Yup. DSC (Dynamic Stability Control)? Totes. As standard too! DTC (Dynamic Traction Control) and EDLC (Electronic Differential Lock Control) both come as optional, though if you go for the Mini John Cooper Works Roadster, well… they are as standard as standard is.
Built for two, the Mini Roadster knows how to pack it away. Stowage allows for 240 litres of luggage. That means you can pack your life away for the ultimate canoodle down south.
Possibly can't pack all the couture in it, but why would you need to when the car looks this runway ready?!
Now, to make the choice more difficult, there are four options for efficient petrol and diesel engines from launch. The model line-up ranges from the MINI Cooper Roadster (90 kW/122 hp), via the MINI Cooper SD Roadster (105 kW/143 hp) and MINI Cooper S Roadster (135 kW/184 hp), to the sharpest performer of all, the 155 kW/211 hp MINI John Cooper Works Roadster.
But the highlight comes with a flick of the wrist.
The roof retracts via manual operation, and yes: it takes nothing more than turning a release lever 130 degrees. The roof cascades, literally. When open it folds down flat behind the seats. Lines are left flawlessly undisturbed. To close, it rolls over the support bars, effortlessly sliding into place with the assistance of gas-pressure springs.
Then there's the snazzy eco-sustainable kudos built in thanks to the deliciously named MINIMALISM technology. This feature further reduces fuel consumption and emissions. How? Thank to features including Brake Energy Regeneration, Auto Start/Stop function, Shift Point Display, Electric Power Steering and ancillary components which work according to need.
Which brings us back to the car as a whole. This is the kind of beauty that you both need and want. It's agile, precise and stable: all the things missing from your last long term relationship, right?!
But more importantly, it looks good and navigates the city with ease. Plus, parking is no longer a worry – the Mini in all of its guises merely slides into the tightest parking spots. And yes, there are trimmings galore from an on-board computer, multi-function steering wheel, automatic climate control, heated seats, automatically dimming rear-view mirror and exterior mirrors, plus preparation for a rear luggage carrier rack.
Due for release in March 2012, get in quick because, like Madonna's new album due out next year, this is sure to be a hit. So much so that you'll be aching to be seen first with it.
So yes, get ready to feel super-duper, all over again. God knows my sister already has her name down on the waiting list. But then, that's how we roll!
Scott-Patrick Mitchell
***