Mischief at the Cat Haven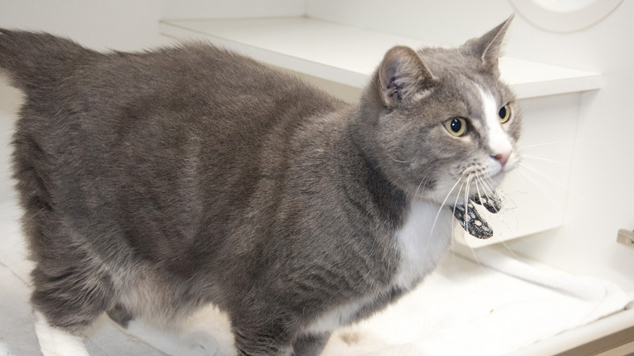 Chandra Woodley, the Marketing and Communications Manager for the Cat Haven tells OUTinPerth that the charity constantly faces two challenges.
"Too many cats and not enough funding, basically we're a charity and we're run almost entirely on donations." Woodley said.
The organisation that shelters and rehouses thousands of cats each year generates some income through their shop and kennel services but they rely on the public to support their work.
On our visit to the Cat Haven we met eight year old Mischief. He first came to the Cat Haven a year ago, he was adopted out but returned as he was a bit of a stress monkey. Mischief is looking for a quiet home, probably one with no children. Because Mischief is FIV+ he'll need to be an indoor cat.
Chandra explains that cats like Mischief who have Feline Immunodeficiency Virus (FIV) which is similar to HIV in humans, but not contractible by humans, may develop some health issues later in life. "There can be costs involved later in life so people are hesitant to adopt a FIV+ cat.
While we're hanging out with Mischief he makes it clear, he really likes having his ears scratched. He's very affectionate. He rolls around and asks us to scratch his head and when it comes times to close his apartment door, he rubs his head on the glass hoping for one last ear scratch.
The Cat Haven charges for people wanting to adopt a cat but the money goes towards the thousands of dollars it costs each week to run their operations. People seeking kittens will pay a little more, but for older cats like Mischief the organisation seeks only a small donation.
The Cat Haven sterilises all the cats that pass through its doors, and an onsite vet works to make sure all the cats health is taken care of.
There's also great news for FIV+ cats like Mischief, "We have a generous benefactor who covers all of the medical costs of cats with FIV, if they're over the age of seven," Chandra explained, which gives FIV+ cats a much greater chance of being adopted. "For FIV+ cats over seven, we really only seek a gold coin donation, and seven is not old for a cat, cats live into their twenties!"
To make a donation to the Cat Haven, foster a cat who is waiting for adoption, or adopt a cat – visit the Cat Haven at www.cathaven.com.au
Graeme Watson