Monday Book: The Life and Loves of Lena Gaunt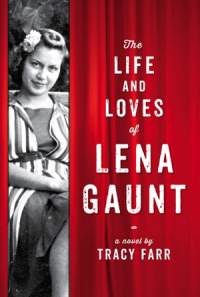 The Life and Loves of Lena Gaunt
by Tracy Farr
Fremantle Press
Lena (short for Helena) Gaunt was born in Singapore in 1910 to Australian ex-pats. An only child, she was sent to Australia for health reasons when she was 4 years old. Despite her young age, she was put on a boat to Fremantle in the care of the ship's stewards, collected from the wharf by her only other relative, Uncle Valentine, and taken to a boarding school in Lesmurdie. For the next 5 years, while the Great War came and went, she remained at the school. Schooling would continue for another 7 years but Lena had outings with her Cottesloe – residing uncle to look forward to when he returned from fighting. Throughout all these years music, first the piano and then the cello, was her constant companion and passion.
Escaping to Sydney with her cello after being released from the boarding school, she met two people who changed her life. The first was a Russian professor of music who introduced her to a Theremin, a bizarre musical instrument that was run by valves and electricity and did not require any actual contact. The other was famous artist Beatrix Carmichael who caught her eye and made her body hum, much like her beloved Theremin. Then there were the "little glass vials filled with white grains" that could be bought from Kings Cross and inhaled through the nostrils to induce a state of nirvana. Another war came and went before Lena was thrown back into the spotlight when electronic music found its place in the 1960s.
Intertwining Lena's story is that of Mo Patterson who had made a documentary about Beatrix and was now recording the octogenarian Lena's story. The reader is transported to a different time as Tracy Farr submerges all the reader's senses.
Lena Gaunt is a fictional character but Tracy Farr's book reads more like a biography. Tracy Farr grew up in Perth and she drew her background information from some unique sources. Stories from her great-grandfather, her grandmothers and her mother provided details about the early days of Singapore, Cottesloe and Sydney. She also found inspiration in a documentary about the Theremin and a Gaylene Preston film about a New Zealand painter whose self-portraits documented her passing years and changing emotions.
Lezly Herbert
Click on the image below to visit more stories from our BIBLIOPHILE collection.