Monday Book: The Ruby Slippers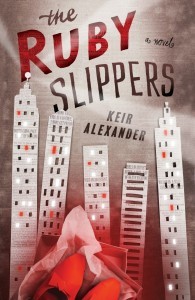 The Ruby Slippers
by Keir Alexander
Corsair Books
This New York story brings together a disparate number of interesting characters whose lives cross over each other's as they are brought together by a pair of ruby slippers from the MGM film The Wizard of Oz.
Old Rosa actually owns the shoes but wanders the streets as a foul-smelling bag lady with Barrrell, her trusty canine companion. Living is her own filth and closed off to the world, Rosa is a hoarder who, at 87 years of age "maintains her stubborn rebellion".
Her nephew Michael reluctantly helps her with food from his delicatessen but neither he nor his wife Grace has much to do with her. The troubled youth Harrison, who lives with his great aunt Crystal, used to work at the deli but now just roams around the streets looking for distractions.
Then there's James, the librarian whose partner Paolo lies dying in the hospital, his teenage daughter Siobhan with ex-wife Corinne and Malachi, an ailing old man in a wheelchair who spits venomous words at his patient nurse Inez.
As a St Patrick's Day parade swarms along the street outside the deli, we get to know the characters' thoughts, except for those of Rosa. As their lives trundle along, hitting bumps every now and then, they all seem to share and emptiness … a need to find missing bits to put their lives together.
It is the wonderful glittering fantasy shoes, accompanied by the tale of those who travelled to Oz and found such knowledge along the way that they pin their hopes on. An accident happens, paths cross and connections are made as the intriguing cast of people chase the dream that a pair of shoes will bring magic to what they consider to be "miserable little lives".
As the fascinating tale unfolds, we do get to more about the mysterious Rosa and also the secrets of the other characters. It would appear that the magic does not necessarily dwell in the Hollywood relics that were once worn by Judy Garland, and the journey to find this out parallels the journeys made by those in the famous musical.
Lezly Herbert
Click on the image below to visit more stories from our BIBLIOPHILE collection.