Up to 20 people killed, 42 injured at mass shooting at Pulse gay club in Florida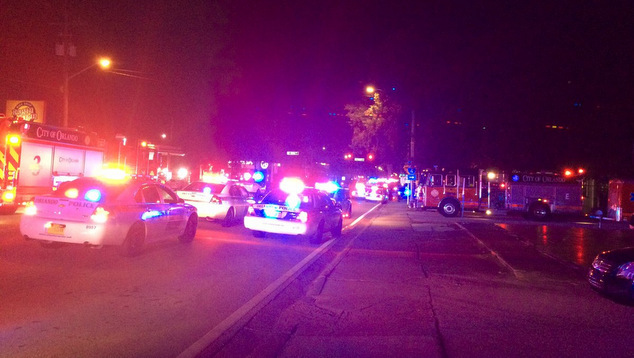 UPDATE: A later report has revealed that the death toll in this incident has risen to 50 people killed and 53 injured. 
Up to 20 people have been killed, and 42 people have been injured by gun shots, after a gunman took hostages at a gay club in Orlando, Florida.
Orlando Police have confirmed that shooting broke out outside the club when an off-duty policeman working at the venue engaged with an armed individual.
The gunman withdrew into the club where he held an unconfirmed number of people hostage. Later police made the decision to go in and rescue the hostages which triggered an armed shoot out with the gunman.
The gunman was killed by police who have reported that he held a hand gun, an automatic rifle and was wearing a suspicious device.
The incident began just after 2am as the Pulse nightclub was closing. The police killed the gunman three hours later.
Speaking to the media just after 7am (USA Eastern-time) Police Chief John Mina said multiple people were dead inside the club but declined to provide a specific number of fatalities.
The Police Chief said around 20 people had been killed while forty two people had been transported to hospitals. Injured people were taken to three separate local hospitals. One policeman had also been injured during the incident.
Police Chief Mina said the shooter was not from the Orlando area and appeared to have arrived up the club prepared to conduct a shooting.
Orlando Mayor Buddy Deyer has described the events as one which would have a long lasting effect on the local community.
FBI officers described the attack as a terrorist incident but highlighted it was unknown at this time if it was domestic or international in nature or the work of an individual or a group.
The shooting comes one day after singer Christina Grimmie, a former contestant on the American version of 'The Voice', was shot dead by an attacker in the same US city. Police have said there is no connection between the two incidents.
Image: Orlando Police
---
Do you need some support?
If you  are struggling with anxiety or depression, support and counseling are available from:
Lifeline: 13 11 14
Beyondblue: and www.beyondblue.org.au
QLife: and www.qlife.org.au QLife are a counselling and referral service for Lesbian, Gay, Bisexual, Transgender and Intersex (LGBTI) people.
Kids Helpline is available for younger readers.  Call 1800 55 1800, it's free.
---