New at the Cinema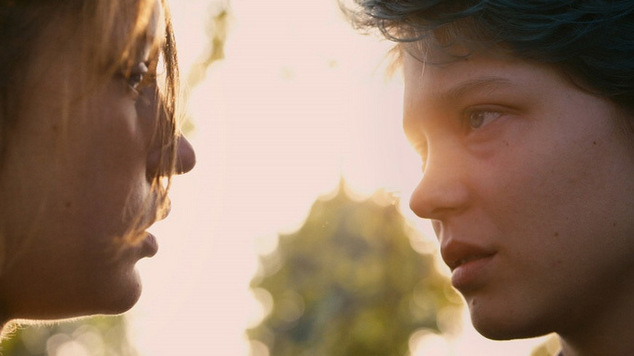 Blue is the Warmest Colour (R)
Directed by Abdellatif Kechiche
Fifteen year old Adele (Adele Exarchopoulos) is a high school junior in France. At the age where there's a lot of peer pressure to have sex, she hooks up with a senior at the school but she feels there's something missing. When she sees a woman with blue hair, holding another woman's hand, her sexual desire is excited and she sets out to explore a lesbian bar. The woman with the blue hair is fine arts university student Emma (Lea Seydoux) and through her, Adele discovers everything about the language of love. Sensuous cinematography makes the explicit sex scenes (one is 10 minutes long) seem like Klimt paintings even though Seydoux and Exarchopoulos aren't gay.
The three hour film explores every part of Adele and Emma's relationship over a seven year period, so there is more than heated passion. Adele throws herself into life zealously but she has a lot to learn. Over the seven years, Adele continually grows in awareness but sometimes her knowledge comes from learning about the more painful side of passion. Her relationship with Emma suffers when the differences in their social and intellectual backgrounds generate differing personal aspirations.
Abdellatif Kechiche has created a naturalistic film. "It's a process of seeing how close you can get to 'the truth' of a character, of trying to get rid of the acting, while knowing you never really quite get rid of it." The actresses only read the script once and didn't wear makeup for most of the movie. The director insisted that they forget what the script said and scenes were improvised. Although the film created some controversy at the Cannes Film Festival, its success (Palm D'Or awards were given to the director and his two lead actresses) is because the raw honesty of the performances has created a truly memorable love story.
Visit OUTinPerth at Pride Fairday on February 16th for your chance to win a two for one pass to see this film. Restricted to people who are over 18.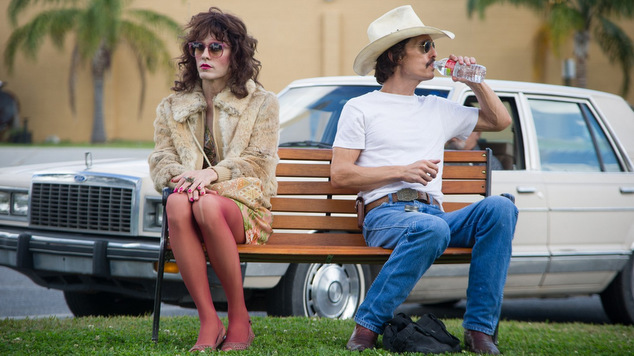 Dallas Buyers Club (MA)
Directed by Jean-Marc Vallee
Ron Woodroof (Matthew McConaughty) is a foul-mouthed, homophobic rodeo cowboy who smokes, drinks, snorts and screws almost anything in his party-like-there's-no-tomorrow existence. In the mid-1980s, AIDS was thought of as a gay plague and Woodroof is shocked when he is diagnosed as being HIV positive and given 30 days to live. He starts to consume AZT as if they are Smarties but the drug is only in the clinical trial stage in the US and there are some nasty side-effects. His research shows that there are much better alternatives that are not available in the United States because of Federal Drug Administration (FDA) regulations.
McConaughty who shed an enormous amount of weight and listened to tapes recorded by the real Ron Woodroof before his death, is incredible as the Texas electrician who became an unlikely AIDS activist. With his business partner and fellow AIDS patient, the transsexual Rayon (Jared Leto), they smuggle drugs from Mexico for a growing number of patients. Woodroof challenges the doctors, including his concerned physician Dr Eve Saks (Jennifer Garner) and battles government agencies to sell the non-approved medicines and supplements. When more sanctions are imposed, he finds ways around them such as selling memberships to a 'buyers club' and giving the medications away.
The film is subtitled 'Dare to Live' and this redneck cowboy, who finds himself at the receiving end of all that Southern bigotry, refuses to do anything but die with his boots on. For 7 years he fights for a better deal for the HIV community and bullies the self-interested and near-sighted people who are making rules that cause greater suffering. McConaughty, who also had access to Woodroof's diaries, is nothing short of brilliant as he recreates the fighting spirit of an imperfect man who accomplished so much in the fight against AIDS.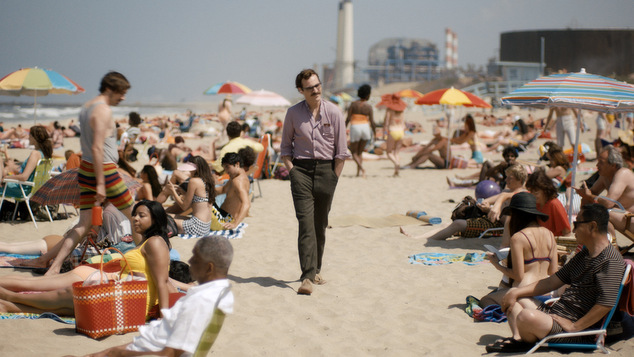 Her (MA)
Directed by Spike Jonze
Set in the not too distant future with Shanghai providing the futuristic city landscape, Theodore Twombly (Joaquin Phoenix) makes his living writing personal letters for other people who can't do it for themselves or don't have the time to communicate to their loved ones. The isolation is evident as all the people walking around the crowded city are engaged with their technologies rather than with each other. Theodore is struggling with his divorce and comes home to an empty apartment, but when he downloads an artificially intelligent operating system designed to be a personal assistant and to meet his need for companionship, his life improves markedly.  As he spends more time with Samantha (voiced by Scarlett Johansson), he begins to care for her and there are several touches of humour as this cyber romance develops.
Every scene is washed with a warm, pastel palette as Samantha learns more about her human and their needs seem to grow in tandem with each other. The whole film rests on the great acting ability of Phoenix and Johansson who is definitely there in spirit if not in body. It doesn't take long for their relationship to become extremely intimate and this unusual love story gathers momentum. Theodore flourishes under Samantha's care and her seductive voice promises the ultimate in human emotions. As Arthur C. Clark said, "Any sufficiently advanced technology is indistinguishable from magic" and sooner or later the smoke and mirrors disappear to reveal the risks of this futuristic romance.
Writer/director Spike Jonze's film looks fantastic and is crammed full of provocative themes. At the base of it is "our yearning to connect, our need for intimacy, and the things inside us that prevent us from connecting. And that sort of tension has always been there" according to Jonze.
Lezly Herbert