New research reveals TikTok's benefits to LGBTQIA+ community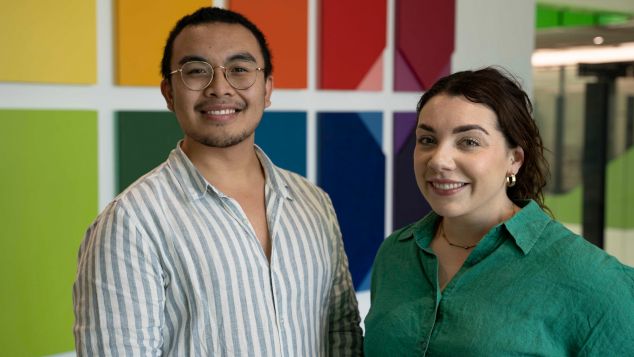 New Perth-based research has revealed that TikTok is used by LGBTQIA+ people to foster a sense of community and explore self-identity.
Lead author Mx Rigel Paciente, a childhood trauma researcher for Embrace @ Telethon Kids Institute, said TikTok was often used by members of the LGBTQIA+ community when they were not able to connect in the real world.
"One of the biggest takeaways from this research was that LGBTQIA+ people and allies posted content that was very affirming about identities," Paciente said.
"There were also a substantial number of posts which talked about ways to feel connected, particularly for users who may be struggling with their mental health as a result of social marginalisation.
"This study highlights the importance of community building, even those found online. It allows LGBTQIA+ people to feel seen and validated knowing that other people have gone through or are going through similar things."
Senior researcher and co-author Dr Alix Woolard, of Embrace @ Telethon Kids Institute and The University of Western Australia, said: "We also found calls to action in our research, whereby community members have encouraged viewers to take action to combat disinformation and hate speech.
"In the future, this research could be used to help safeguard against exposure to phobic rhetoric and hate speech, to ensure that damaging content and users are limited in reach. There is also an opportunity to use TikTok as a space within which to promote wellbeing for the LGBTQIA+ community," Dr Woolard said.
The research team used engagement statistics, demographics and content analysis to describe the top 250 most-viewed videos under LGBT Mental Health-related hashtags.
The analysis indicated that TikTok was used as a way for members of the LGBTQIA+ community to connect with each other and enhance feelings of connectedness.
Minority stressors including social marginalisation, homophobia and transphobia, could be reduced by the building of an online community, the study found.
The full report, The Queers are alright: A Content Analysis of LGBTQIA+ Mental Health on Tiktok, can be read here.
Source: Media Release
---
Do you need some support?
If you are struggling with anxiety or depression, support and counselling are available from:
QLife: 1800 184 527 / qlife.org.au (Webchat 3pm – midnight)
QLife are a counselling and referral service for LGBTQIA+ people.
DISCHARGED: [email protected] / discharged.asn.au
Discharged is a trans-led support service with peer support groups for trans and gender diverse folks.
Lifeline: 13 11 14 / lifeline.org.au
Beyondblue: 1300 22 4636 / www.beyondblue.org.au
---

You can support our work by subscribing to our Patreon
or contributing to our GoFundMe campaign.