New State Representatives for NAPWHA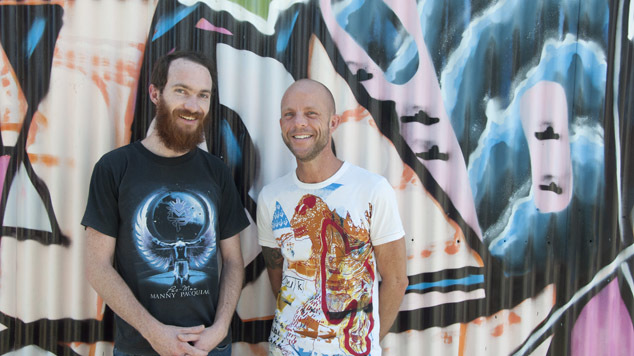 Izaac Bukley and Paul Baines have been elected as WA's new representatives to the National Association of People Living with HIV Australia (NAPWHA).
Izaac Bukley
Tell us a little about yourself?
I am 25, creative, energetic, social, insightful, and caring. I have a fair bit of traveling experience. I lived in the UK for around a year and a half. Having lived in New Zealand for sixteen years I grew up not just in a beautiful city, in a beautiful land, but I was around beautiful people, and this encouraged me, to explore my surroundings, and get to know what I like to do.
While completing a first year diploma in Fine Arts in 2008 I took mixed media sculpture as my primary mode of expression. Combining elements of me, and ingredients from around me to create works of art. The making of these objects can be quite laborious but the dreaming process of each work is very therapeutic, and a lot of the time is very meditative, sometimes stressful.
I am close to my family, and I like to keep in touch with them regularly. I used to be a social butterfly in my school days, but living and working out here in the wild world as an adult, has been somewhat of a challenge. I have my close friends though, and I have my social circles of which I am eternally grateful.
I am a Committee Member of the Bears Perth, within that position I have responsibilities for the club, and an opportunity to help build a strong network of confident men..
What do you hope to achieve as a state representative for NAPWHA?
Since my diagnosis six years ago, my family, friends, partners and my creativity have been my strengths for taking care of my health. At first I felt defeated. At first, and for a long time afterwards, I felt I was perceived as a danger so I convinced myself, and accepted that I would always be a danger, infectious, and a threat. Because of that influence of thought I slowed right down, and took things at a day by day pace. Now with more of a need for independence I have begun to plan ahead, to manage my health physically, mentally, emotionally, and spiritually to overcome ill-informed opinions.
I am passionate about bringing people together, so making connections here and there, however diverse those people may be, to stand together and read from the same page is my goal. If a connection can be made, I feel this world would become a more cohesive and collaborative place to live. As a state representative for the PLHIV community I aim to build alliances, to share knowledge, to raise awareness of what it means to be HIV+, and to equalise the positives and the negativities.
There is still a lot of fear around the word AIDS, so I would like to help others within the LGBTIQ community and the wider community see that HIV is not AIDS.
The fear around that association are so damaging to our sense of belonging, and so limiting to our chances of creating and sustaining strong friendships, falling in love, being accepted in our own families and our communities as equal.
Paul Baines
Tell us a little about yourself?
Born in WA, I spent the majority of my teens and early adult years living here in Perth and it was here that I was diagnosed with HIV. I have been living and dealing with that diagnoses for over 17 years. I returned to Perth 5 years ago, after a decade on the East Coast, primarily living in Melbourne were I had involvement with Living Positive Victoria (then PLWHA Victoria) and was the Vice-President of the organisation for several years.
I had the pleasure of attending AIDS 2014, the international conference held in Melbourne last year. It reignited an energy that was strong and focused within the first decade of my diagnosis, which for many reasons I retreated from. The reigniting of this focus and energy means that I have become a more present and actively engaged participant with the HIV community within Western Australia.
The conference allowed me to develop an enhanced understanding that there are so many battles still being fought domestically and internationally for positive people and as a member of the global positive community I want to stand tall and proud of my status and do what I can to assist and make a change in our worlds.
What do you hope to achieve as a state representative for NAPWHA?
My new found drive and energy and has created a momentum of positive involvement within the HIV community within Western Australia and Australia. As a leader and agent for change I hope to provide a voice and a point of action for all of the various positive communities present here in WA. Collectively we have much in common, much more than just HIV.
Stigma and discrimination is something that the majority of PLHIV have experienced at one point or another and is one of the things I hope to have an effect on. Those that are able to take a stand against this need to feel empowered to do so – I feel that only by taking that stand and dealing with stigma and discrimination head on will we bring about a change for all positive people.
The first of the WA NAPWHA PLHIV Community Forums is on at 12:30pm Saturday March 28th at the Northbridge Piazza. RSVP to [email protected]
This article was first published online on March 14th, it's publication date was adjust on March 17th to adjust it's position on the website.