New wave of advertisements calling for marriage equality launched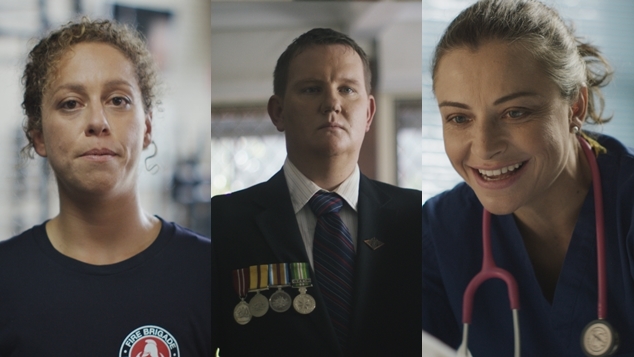 The Equality Campaign today launched its largest ever national marriage equality campaign on the eve of Parliament resuming for 2017.
The TV advertisement features LGBTIQ Australians from all many honorable professions including firefighters, surf lifesavers, military veterans and medicine. The message behind the campaign, these LGBTIQ people do their jobs, and it's time for politicians to do theirs.
The TV campaign will be accompanied by a outdoor advertising campaign that will see the marriage equality message plastered across billboards around Australia.
Executive Director of the Equality Campaign Tiernan Brady said politicians will arrive back in Canberra this week and we will be there with a campaign bigger than ever.
"We will continue to show Federal politicians that Australia wants to celebrate marriage equality. Our campaign is not going away, and will only gets stronger, until federal parliament delivers this straightforward and strongly supported reform that is all about fairness." Brady said.
"Our national campaign is about building on the momentum and energy generated across the nation for marriage equality and continuing to campaign for a straightforward change to be achieved by a vote in the parliament."
Brady outlined that the campaign will involve a national television commercial across all channels, a far-reaching billboard and digital advertising campaign as well as town hall and local events across the nation.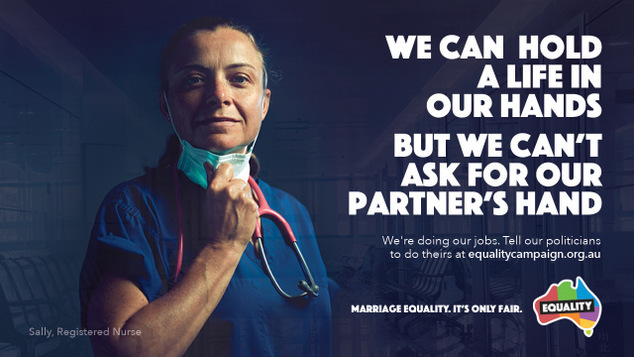 "The Equality Campaign features real people across Australia who make this country better. Our soldiers, doctors, nurses, lifesavers and fire fighters, people who Australians are proud of but at the same time cannot marry the person they love in the country they serve.
"Across Australia, every day there are people who go to work and make Australian a better place, a safe place, a healthier place. These are everyday Australian heroes who do their job and are waiting for politicians to do theirs.
"It is vital that Australians right across the nation get in touch with their MP and tell them why equality for everyone matters," Brady said.
Australian Marriage Equality National Spokesperson Shirleene Robinson said this campaign is reminding MPs that Australia has made up its mind and that this issue is not going away, it is that simple.
"The campaign is proud and confident of Australia.  It is the land of a fair go for all. The value is also the overwhelming reason why majority Australians say they support Marriage Equality.
"Two-thirds of Australians as well as a majority of politicians want every Australian to be able to marry the person they love. Marriage equality will not change anything for the vast majority of Australians, but will make a profound difference to the status and dignity of many.
"If MPs and Senators were able to have a straight up vote on Marriage Equality it would pass comfortably. It is only the world of party politics that is preventing the wishes of the Australian people from taking place.
"Our supporters across the nation need to call their MP and ask for a straightforward vote in the parliament," Robinson said.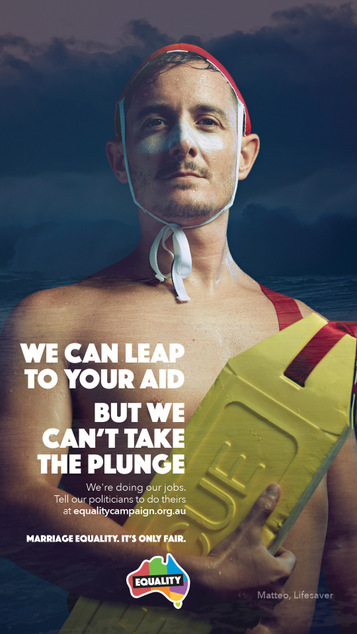 Co-Chair of Australian Marriage Equality, Alex Greenwich said it's now is the time to get marriage equality across the line.
"Our Federal MPs have a unique opportunity to make history and deliver a reform that celebrates fairness for all. It's up to our Federal Politicians to do their job and vote marriage equality through so we can all move forward.
"Our campaign across the nation will continue to show how marriage equality is simply based on our shared Australian values of a fair go and respect for all and its important that these values continue to underpin the ongoing conversation on marriage equality across the nation.
"Fairness and equality are at the heart of Australian society. We are promoting some of the greatest human values – love, respect and happiness," Greenwich said.
The campaigns arrival coincides with renewed speculation on how Prime Minister Malcolm Turnbull will address the long running debate over marriage equality.
In the last 24 hours many conservative MPs have renewed their calls for the plebiscite legislation to be reintroduced and former Prime Minter Tony Abbott warned that changing the party's policy in this area was not an option.
There have been suggestions that a growing number of Liberal MPs are pushing for a free vote to be given in the parliament.
OIP Staff
Source: Media Release