News watchdog says same sex marriage article was not accurate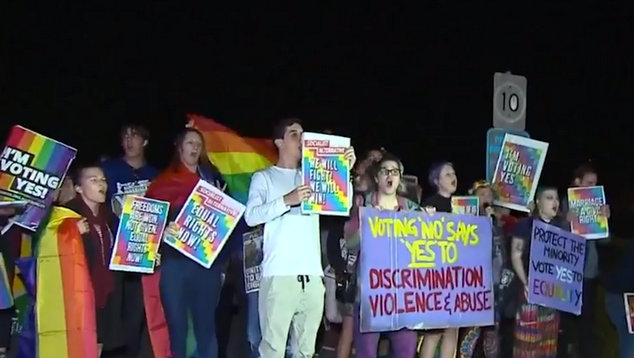 Online news provider news.com has been found to have described a Brisbane protest held during the 2017 marriage postal survey in terms that were "inaccurate" and "not factual".
On the 8th of September the website posted an article that described a protest outside a church in Brisbane with the title Marriage equality supporters clash with churchgoers in Brisbane protest.
The articles subtitle read: "SAME-SEX marriage supporters claim cars were used as weapons in the first violent clash between 'yes' and 'no' campaigners ahead of the postal vote."
The article included a quote from a protester who claimed that "people drove their cars nearly at full spend into the yes campaigners". The woman was treated by paramedics at the scene.
At the time church-goers denied that they drove at full speed towards protesters and questioned the accuracy of media reports.
In a submission to the Press Council news.com defended the report arguing that the use of the phrase clash did not necessarily imply a physical alteration but could also apply to a clash of "belief and demands".  The pubisher said all the claims within the article had been presented as allegations not statements of fact.
The Press Council disagreed and said the use of the phrases was presented as a statement of fact and were an assertion of a "violent clash" occurring.
The watchdog also noted that the report relied on a statement from just one person, and the reporter had not been at the scene but had relied on television news reports to construct the article. The lack of corroboration from police and the failure to give the church attendees a right of reply were also criticised. The council found the story to be in-accurate and unbalanced.
OIP Staff
---