Nobody writes songs about denying people's rights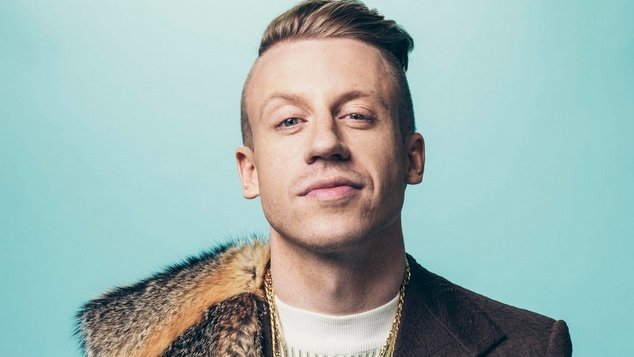 OPINION
The debate over whether or not it was appropriate for the National Rugby League to invite a singer who supports marriage equality, and had a hit song about reducing homophobia, is entering its third day.
It's likely to continue at least until Macklemore and Mary Lambert take to the stage at the NRL Grand Final on Sunday, and will probably drag on throughout next week as the columnists and talking heads of Sky News After Dark prattle on.
If you're wondering what's being going on, here's a recap of the drama so far.
A former Rugby player launched a petition calling for the NRL to insist that Macklemore refrain from playing his song Same Love. Tony Wall said he'd struggle to watch the grand final if he had to hear the song.
"It will be very difficult to watch the NRL Grand Final with my wife and five young children as the event will be heavily politicised with a LGBTIQ anthem taking centre stage." Wall wrote.
Within hours News Corp's columnist Miranda Devine was promoting the petition, then former Prime Minister, and leading voice of the NO campaign against marriage equality, Tony Abbott, added his voice to the calls for the song to be banned.
"Footy fans shouldn't be subjected to a politicised grand final. Sport is sport!" Abbott tweeted, sharing the link back to Wall's petition.
Next the official No campaign joined the debate, putting out a media release condemning the NRL for allowing Macklemore to sing the tune.
People were quick to point out that Abbott himself had taken advantage of sporting events on many occasions, pictures of the former PM hanging out with football teams, commentating the cricket, and holding up Rugby jerseys filled social media feeds.
Abbott's colleagues also pointed out that one of his central arguments against allowing same sex couples to wed, was a belief it would have an impact on free speech, but here Abbott was supporting a call for an artist to be restricted in which material he could perform.
Attorney General George Brandis said Abbott voicing support for the banning of the song was bizarre.
"It is one of his most popular songs, and for Mr Abbott or anyone else to say that it should be banned I think is a bizarre thing to say," he said.
"I thought Mr Abbott believed in freedom of speech."
One Nation leader Pauline Hanson told Chanel Seven that she'd never heard of Macklemore but was concerned that he wasn't an Australian. Hanson said she'd have preferred to see John Farnham or Daryl Braithwaite perform at the Grand Final.
Independent MP Bob Katter said the NRL's decision was an insult and offence to every single supporter of the game.
"If they take the most sacred day of the year, outside of Christmas of course, and use it to promote their sexual proclivities, that is an insult and an offence to every single follower of rugby league in this country." Katter said.
The MP said the grand final was being "besmirched" and the decision to allow  the song to be performed was "tantamount to seeping sewage into the debutante ball."
"If you want to have whatever sexual activities you want to have – fine. You keep them to yourself. Don't go around waiving them like a flag and imposing them on the rest of us." Katter said.
Katter said the Australian people didn't want Macklemore at the game, or in the country.
Macklemore himself commented on the growing controversy, during an interview with a US radio station he noted that tensions were rising in Australia ahead of his arrival.
I'm getting a lot of tweets from angry old white dudes in Australia. Today I think there is a petition to ban me from playing." the rapper said, before declaring the calls for him to drop the song from his playlist only made him want to "go harder".
Macklemore's "angry old white dudes" set off Sky New's Andrew Bolt who declared Macklemore was not a suitable performer to sing at the event suggesting the singer was 'sexist, ageist and racist'.
High profile LGBTI sportspeople have praised Macklemore's anti-homophobia message in the song, and highlighted it's a message Australian sporting codes still need to hear.
Ian Roberts, who came out while playing rugby – and remains the only player to have come out, told the ABC's 7:30 that the song had an important message.
"Some of his lyrics are so powerful, 'No freedom until we're all equal'" Roberts said, "That's a wonderful statement."
Olympic gold medalist Matthew Mitcham said it was encouraging to see both the NRL and the AFL having a commitment to inclusion.
The Prime Minister addressed the issue during an appearance on The Project.
'Let him sing the song." Malcolm Turnbull declared.
"He should perform whatever he want to perform, I mean for heaven's sake, it's the half-time entertainment at the Grand Final. They've got a great artist, he'll sing his top hits, that's one of them. That's great."
Turnbull said Abbott's concern about the song were not inline with the liberal value of promoting free speech.
It's not like the majority of Australians haven't already heard the message within the songs lyrics. It was one the Australian charts for five months, and held the number one spot for four weeks. It was nominated for Song of the Year at the Grammy Awards.
Immigration Minister Peter Dutton disagrees with the Prime Minister's position. Speaking from London, Dutton said Australian families didn't want a song that was political in nature to be part of the sporting event.
"I don't think Australian parents taking kids to the footy want political messages down their throat," Dutton said.
"I think sporting events and work places are totally the wrong places for these political messages, people go to the AFL and NRL finals to see a game of football: they don't want to be sold political messages."
Dutton said he believed sporting bodies who supported marriage equality would have difficulty in the future because many other political groups would want to take advantage of them.
"The NRL might find in the next seasons people may want to promote social issues, this is an interesting precedent, what other social issues do they want to make in the years to come?"
Then he suggested the NRL would have been better off finding a performer with a song that supports traditional marriage, so as to create balance.
"I am into free speech … presumably two songs should be played, one for gay marriage and one against gay marriage,'' Dutton said.
Which lead to the hash tag #nosongs being launched on Twitter as people desperately tried to thing of a song that encapsulated homophobia and supporting traditional marriage.
While The Supreme's Stop in the Name of Love, Billy Idol's White Wedding, Percy Sledge's When a Man Loves a Woman and Frank Sinatra's 1956 hit Love and Marriage were put forward it, none of them really encapsulated the arguments of the 'No' camp.
Comedian Mark Humphries from SBS's The Feed created a clip featuring a homophobic rapper called Ponce who offered to perform at the Grand Final with songs such as Let's Do It Lyle Style, Not in That Hole You Don't, and Not Baking You a Cake.  
That should be a clear sign for the No camp, when nobody writes songs about the thing you're fighting for, you're probably fighting for the wrong side.
How has Australia responded to the controversy? Well Macklemore's tune, which was released back in 2012, has shot to the top of the iTunes chart becoming the most downloaded song in the last 24 hours.
Macklemore has arrived in Australia, but cancelled a scheduled press conference ahead of his performance, but the news that Australia's politicians are arguing about a song has ricocheted around the world.
Why is a debate over a song, which is essentially about not being homophobic, the centre of Australia's debate of marriage equality?
Because that's all we've got left to talk about.
The other options were Sky News reporter Carolyn Marcus's concern that universities might struggle to teach  Hall's Marriage Theorum in mathematics courses if marriage equality was realised (real story, not making it up), while Miranda Devine is trying to decipher some graffiti symbols that were found in a now demolished building, that was the home of Mardi Gras almost a decade ago. Neither of these were getting much traction.
As Tiernan Brady from the Equality Campaign said earlier this week, the No campaign has thrown out almost all it's red herrings, and are are now scraping the bottom of the fish basket to see what else they can throw out.
There's 53 days of the debate to go.
Graeme Watson
---
Support OUTinPerth
Thanks for reading OUTinPerth. We can only create LGBTIQA+ focused media with your help.
If you can help support our work, please consider assisting us through a one-off contribution to our GoFundMe campaign, or a regular contribution through our Patreon appeal.